Fun and Unique DIY Spring Decor Ideas using Repurposed Items
DIY Spring Craft Ideas Using Repurposed Items
This time of year is the hardest part of the year for me. Spring comes to my friends blogs about three months before we ever see it. It makes the wait much to long and I often find myself getting very blue and impatient waiting. No fresh tulips or outdoor gardening to enjoy, but these unique DIY Spring decor ideas can be made right now. Spring can come early for those of you lucky enough to be American, but for us frozen northerners trying a couple of these projects will be a fun way to enjoy what we can while we wait.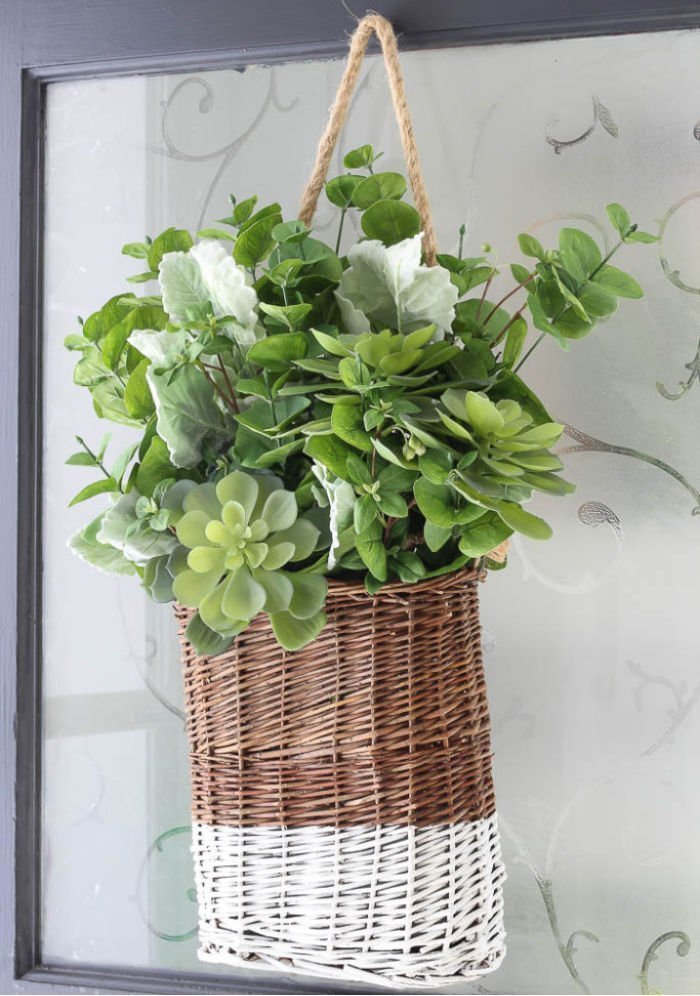 DIY Hanging Baskets | Room for Rent Blog
A gorgeous terra cotta coloured Spring tray made with a flower market stencil, I love the terra cotta look on this tray.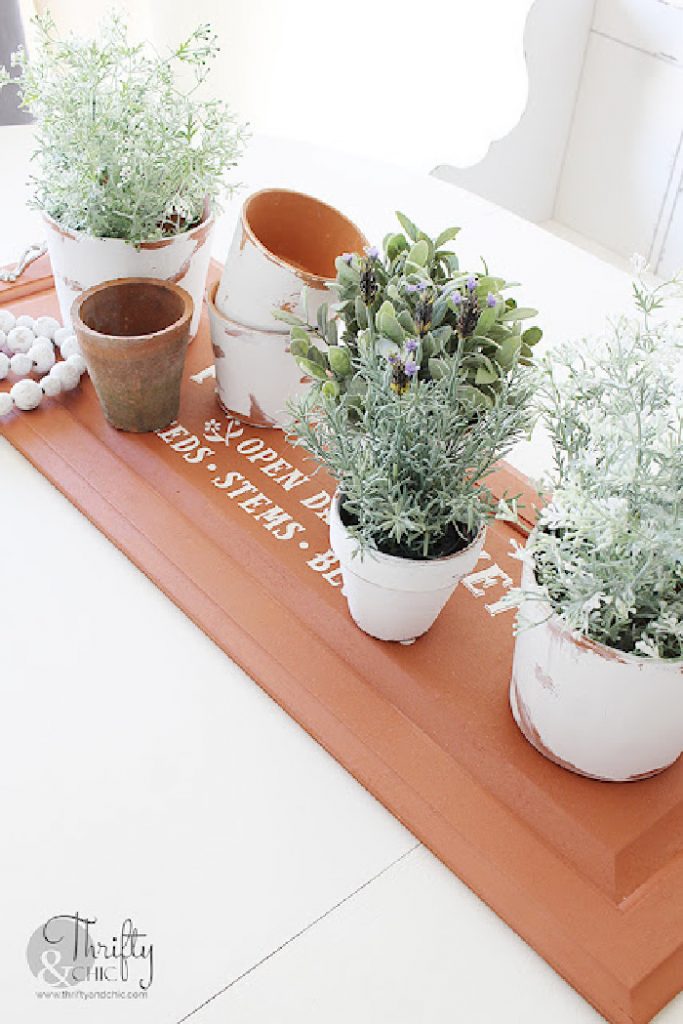 DIY Spring Centerpiece Decor by Thrifty Chic
Not sure why but I love this idea because of the natural wood patina, it gives this Spring arrangement an organic feel, sometimes doing less is the best choice.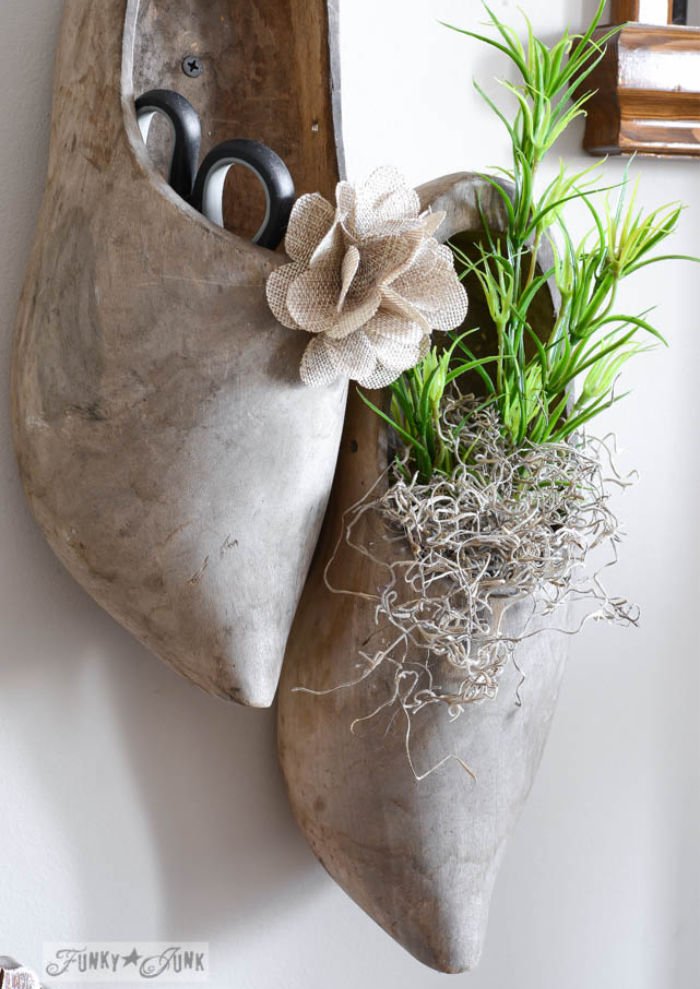 Spring Decorating with Mossy Wooden Shoes | Funky Junk Interiors
This DIY Spring wreath idea is so unique. Its so dramatic against the dark front door. Like the wooden shoes I think the original soft green of the metal box best left just as it was.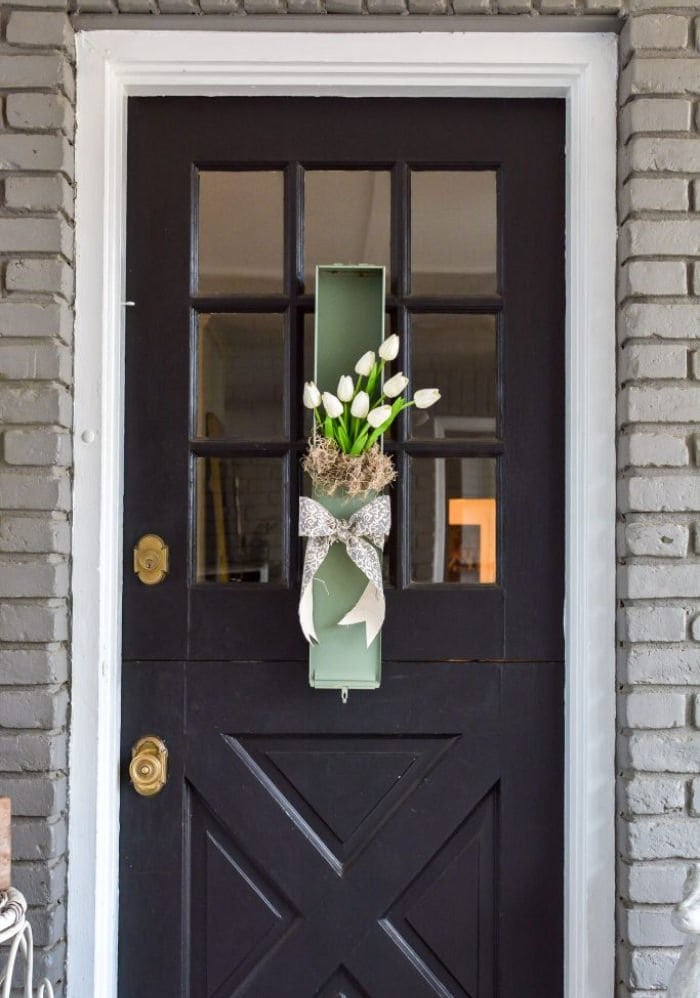 Tulip Wreath for Spring Safety Deposit Box | Salvaged Living
This DIY flower garden globe is so striking and different. Old globes are not something I am drawn to, but this one is very appealing and eye catching.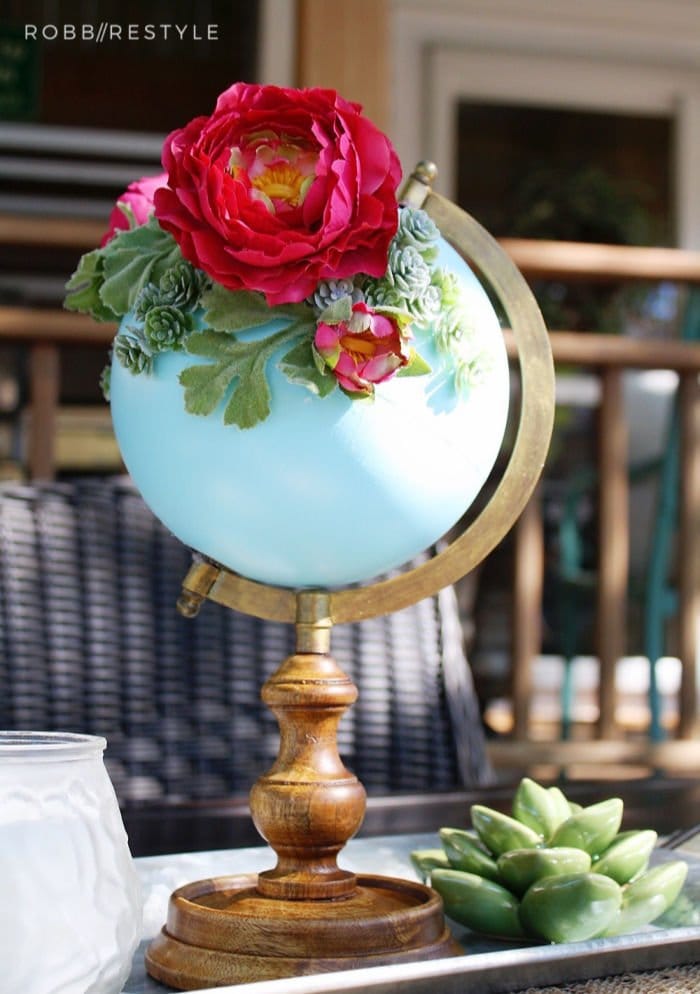 DIY Flower Garden Globe | Robb Restyle
Spring cleaning takes on a whole new meaning when you repurpose an old metal dustpan into a DIY Spring wreath. The colours of this wreath are so vibrant and fresh against the soft aqua of the front door.
Repurposed Spring Wreath | House of Hawthorne
This DIY tulip wreath for the front door is so different from the traditional wreaths we see welcoming people to Spring. She used faux tulips and some birch ribbon, its both easy and unique.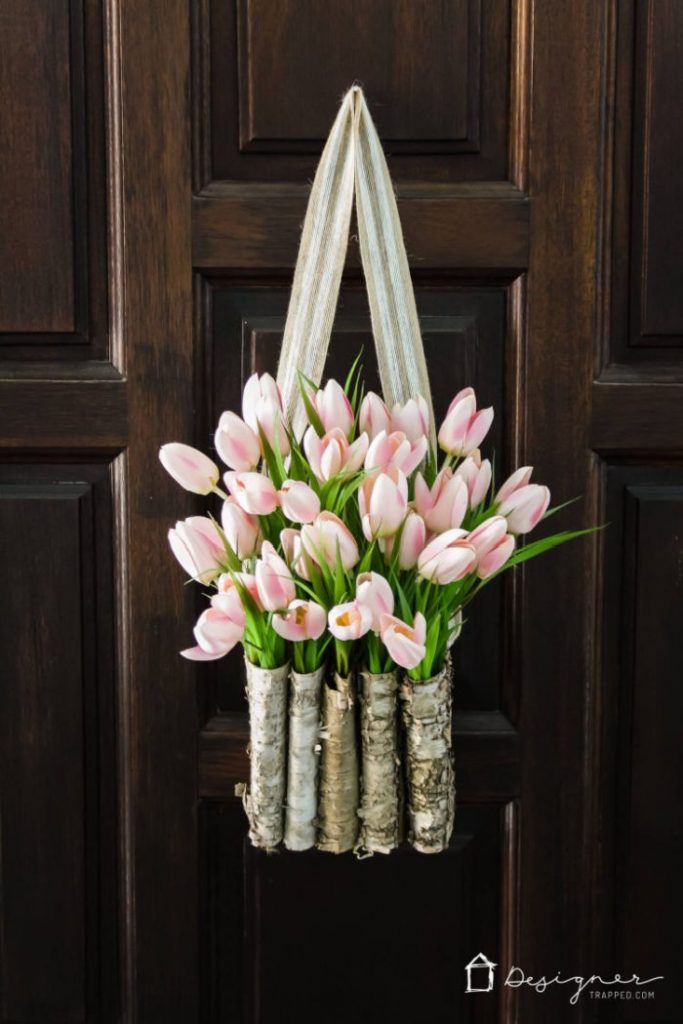 DIY Easy Tulip Wreath with Birch Vase by Designer Trapped
Like so many men my Hubs loves to barbecue so I created him his very own barbeque grill sign. It hangs on our back patio privacy wall, and he just loves it.
These repurposed mason jar lids are so practical and pretty for in the garden. Placing these little signs in a flower pot. or even a fairy garden.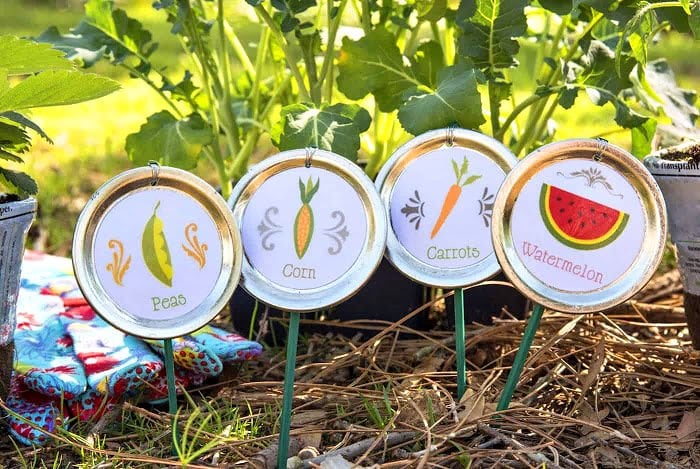 Mason Jar DIY Garden Stakes | Mod Podge Rocks Blog
This umbrella full of pink tulips makes such a statement on the front door, and in a funny way I think it celebrates Spring rain.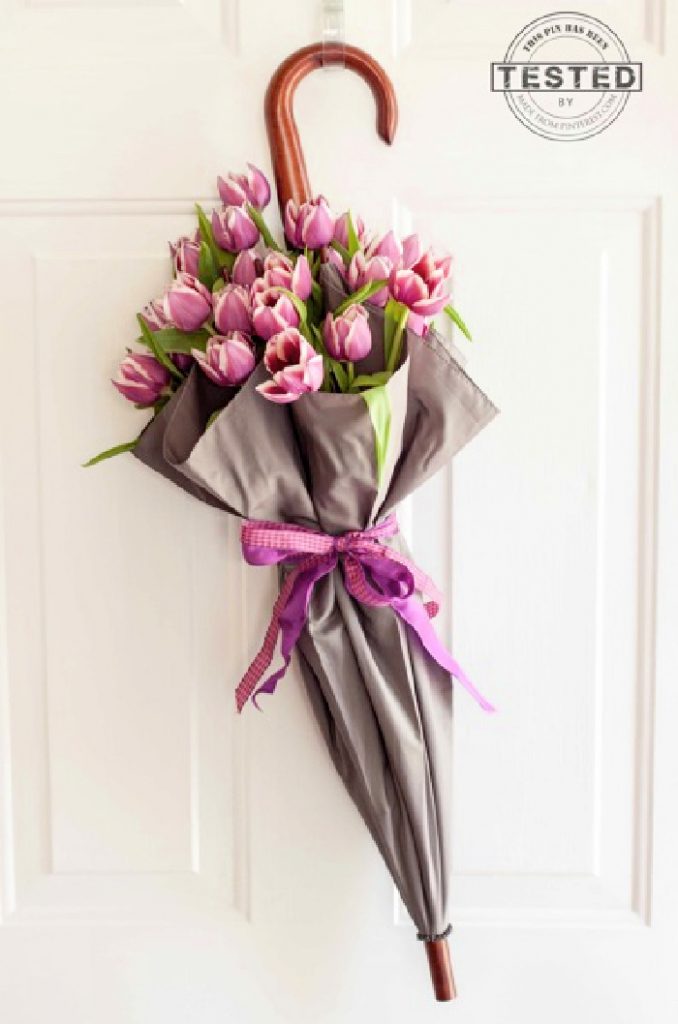 Spring Umbrella Wreath by This Grandma is Fun
These pretty simplistic vases are made with painted fabric and repurposed jars. Her idea of using painted fabric makes colour selection so easy.
Fabric Covered Spring Vases | Love Grows Wild
Just last weekend I found some old tart tins at the thrift store, now I need to find a pretty dowel to paint. This is so easy and special, my favorite part is how she used bird seed to fill the bottom tart tin.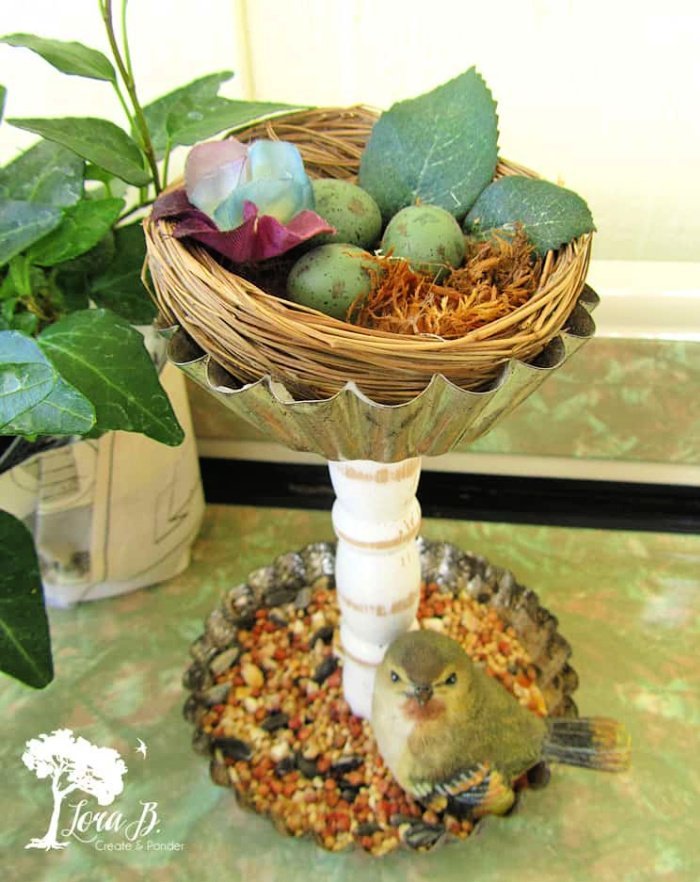 Repurposed Tart Mold Pedestals for Spring by Lora Bloomquist
DIY Spring crafts are a great way to shorten the wait to warm days and being outdoors again. I hope you feel as inspired reading this post as I am creating it. I see a thrift store trip on my agenda very soon and I hope you do as well.