Spooky Tree Halloween Outdoor Decor
How to Make a Spooky Tree for Halloween
Who wants large creepy trees surrounding our front entrance any time of year but Halloween. But when October comes around large, gnarly, spooky trees become enjoyable fun. Halloween outdoor decor placed near the front porch adds a slightly ominious creepy feel for the trick and treaters and fun loving neighbours. These spooky and festive DIY halloween yard decorations took us a couple of hours, and we had fun puttering outdoors enjoying Fall while we did it.
With these spooky trees for Halloween we can "plant" them just before Halloween and poof gone right afterwards. Using branches and dollar store supplies this Halloween outdoor decor idea is both easy and inexpensive.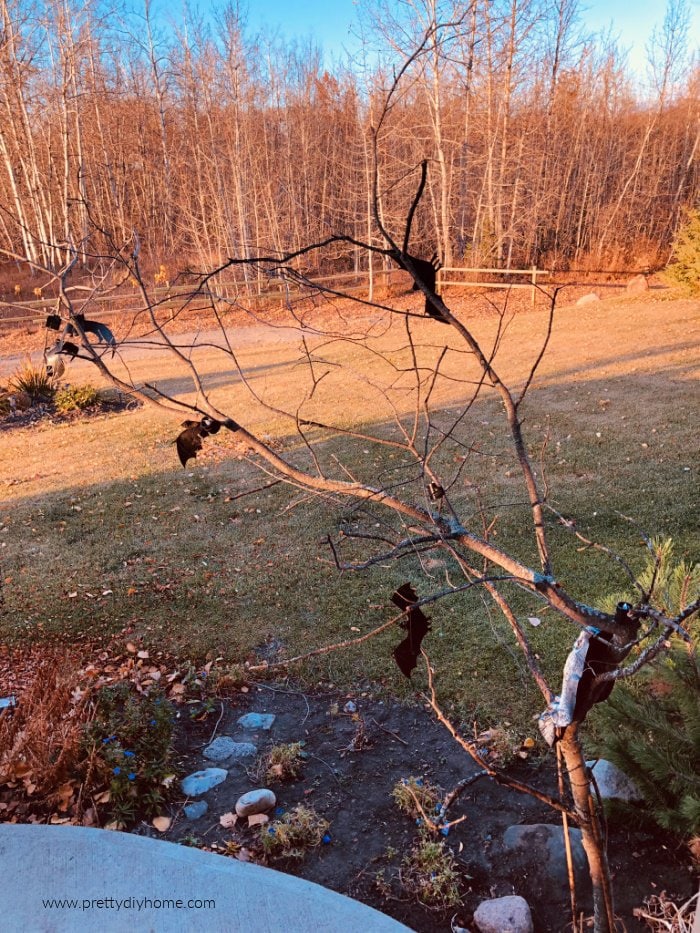 How to Make a Spooky Tree for Halloween
Spooky Halloween Tree Supplies
We live surrounded by trees, so we went for a walk and chose branches from several large windfall tree/branches in the forest. You will inevitably find large dead branches in any forested area with deciduous trees. As long as you use fallen branches I doubt anyone would care if you took some from a city park either. Ask if you can, and don't take live trees. Its a great excuse for a Halloween themed outing with the family. In total we spent $20 Canadian on our Halloween trees.
The spooky trees can be spray painted black, but as we used very large dead branches with dark grey bark, we skipped paint and saved the time it takes to paint them.
Two large dead tree branches, or two small trees
Dollar store plastic bats
Dollar store black flameless candles
Black garbage bags and Halloween black covers
Black electrical tape
Florist wire
Bucket with weights or rebar
Plastic tie on straps
How to Make a Halloween Tree with Branches
Placing the Spooky Tree Halloween Decorations
The trees need to be somewhere near the walk path of the trick and treaters, but safely placed far enough away to avoid dry branches poking the trick and treaters, especially the eyes. So instead of placing the tree (seen above) over top of the sidewalk and front porch entrance we swung the tree around so the branches were situated over the flower gardens.
If your tree can be placed in a flower bed, or somewhere with dirt thats fantastic. to "plant" your tree just dig a one foot deep hole. Place the trunk of the tree in the hole, fill the hole back in. To keep the tree sturdy pound in two 4′ or longer pieces of rebar into the ground on each side of the tree. Make sure the rebar is at least a foot down into the ground. Wrap the spooky tree trunk to each piece of the rebar using plastic wraps. Make sure everything is very solid, you shouldn't have any movement. If you do add more rebar, or pound the existing rebar deeper and add more plastic tie down straps.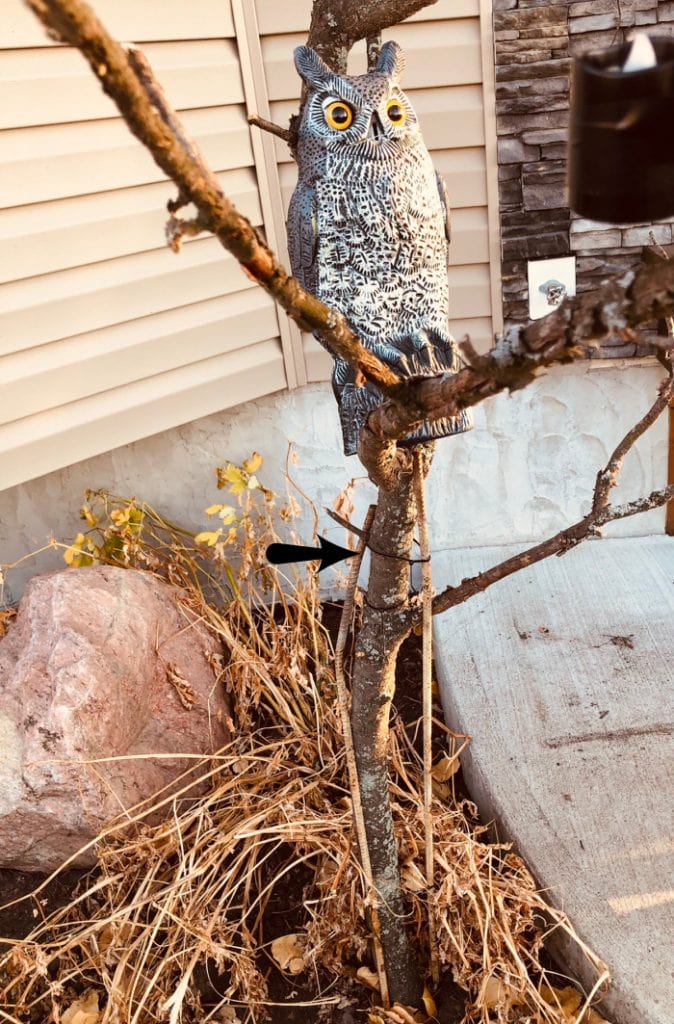 For this Halloween tree we kept the dead folliage around the bottom to help camouflage the bottom of the tree. Leaves, or more branches would work as well, but I don't think leaving the rebar showing is that big a deal, especially in the dark.
If like us you have concrete near the front porch and can't use rebar use a large bucket and something for weight.
If you are using buckets you need to have them close enough to your house that you can anchor them to the structure. We were able to wire the side of the tree to our porch and swing it so that the branches weren't over the walk path.
To keep the tree solid, place the trunk of the tree into a large bucket. First cover the bucket with something black we used a garbage bag. Place the tree trunk into the bucket and then stuff around the tree trunk with whatever you have on hand that is heavy. We use wood kindling, but rocks would work well, make sure to back them in tightly so there is no movement.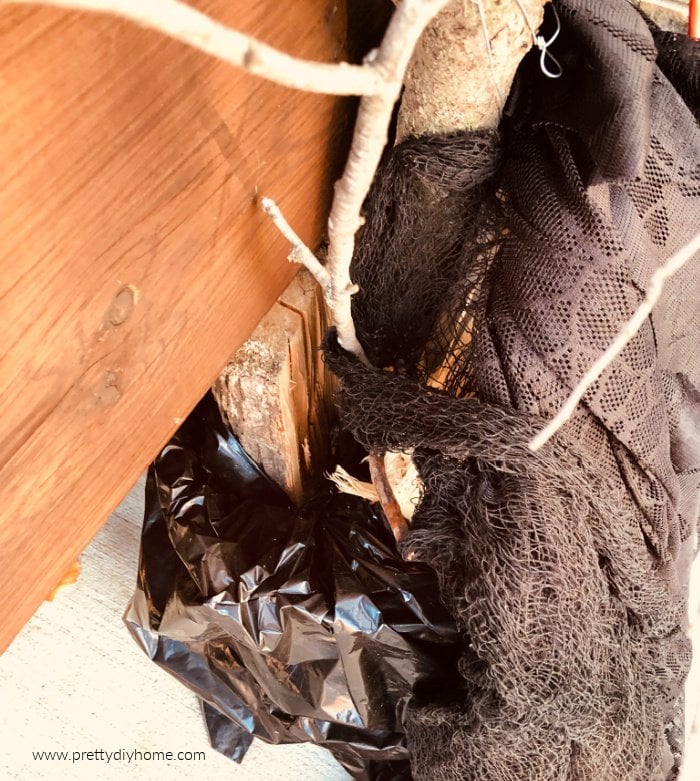 Then close the garbage bag over the bucket. We added some black Halloween cloth I had in our stash.
Note: We had two storms at our house since we first put in our spooky trees including one with a wind warning, and the Halloween trees stayed very well. The wiring held on both the trees and the decorations.
Adding Bats to the Spooky Tree
Bats are really kind of cute, except for the germs and the catching in your hair part. Thankfully plastic bats don't have any of those concerns so I find them adorable and fun with just a tad of spooky.
Place the bats whereever you like where they can hang down. Wire plastic bats by hand from the branches whereever you like. Make sure the strings that come with the bats are well connected. I made the knots on our looped strings larger so they won't pull through the bats.
Hang the bats whereever you like making sure to spread them out. Attach each bat with a small piece of florists wire wrapped tightly around the branch and twisted to hold. Before hanging each bat I made sure the dollar store bat hangers were secure, by tying the knots larger at the end of the strings so they were less likely to pull through
We had an black owl from several years ago and a crow I wired on as well. If you really want to notch up the creepy value, I could twist a bunch of plastic snakes around the branches. I thought about using snakes, but it was too creepy for me.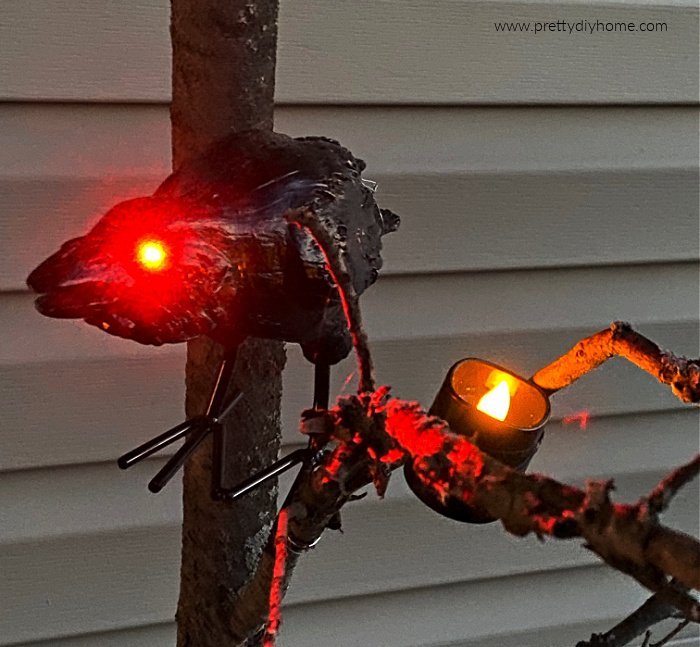 Adding Candles to the Spooky Tree
The little black votive size candle were 2 for $1.25 at the Dollar Tree. They come with there own batteries. Hubs attached them to the tree for me by placing them near two branches, than wrapping them securely with black electrical tape. The downside of these candles is the life is probably quite short, secondly on Halloween night we will need to take a few minutes and turn each one on individually. I don't mind doing that one bit, but thought I should give you the heads up.
They will give a little extra light on our front yard for Halloween, and they do a really good job of letting the kids know there is decoration nearby.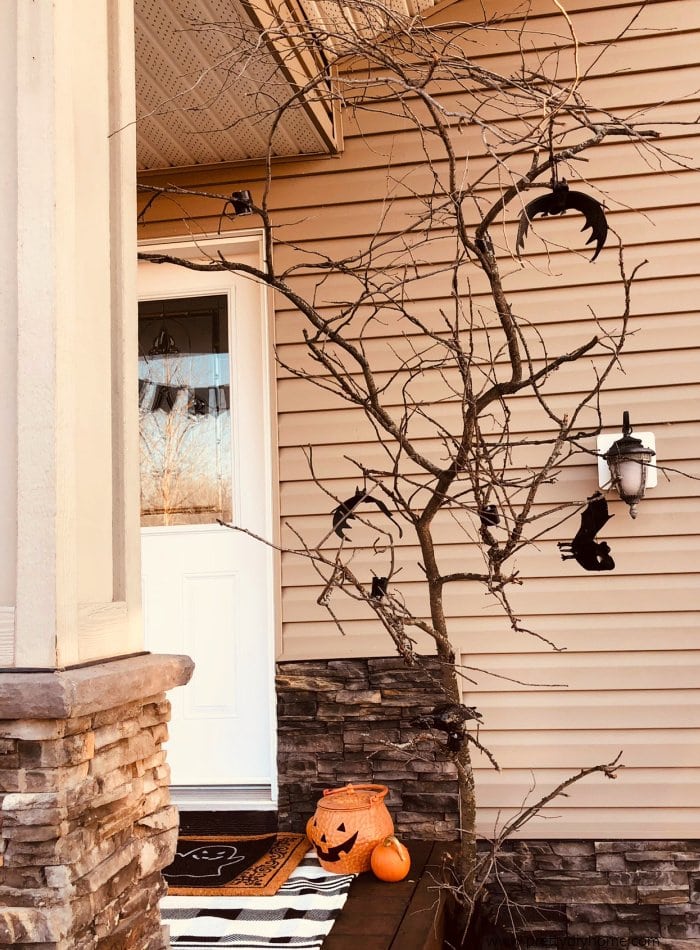 This Halloween tree is part of a few Halloween outdoor decor ideas we made this year. Ad I get all the posts written you will see them linked below.
Here is an image of our completed Halloween porch.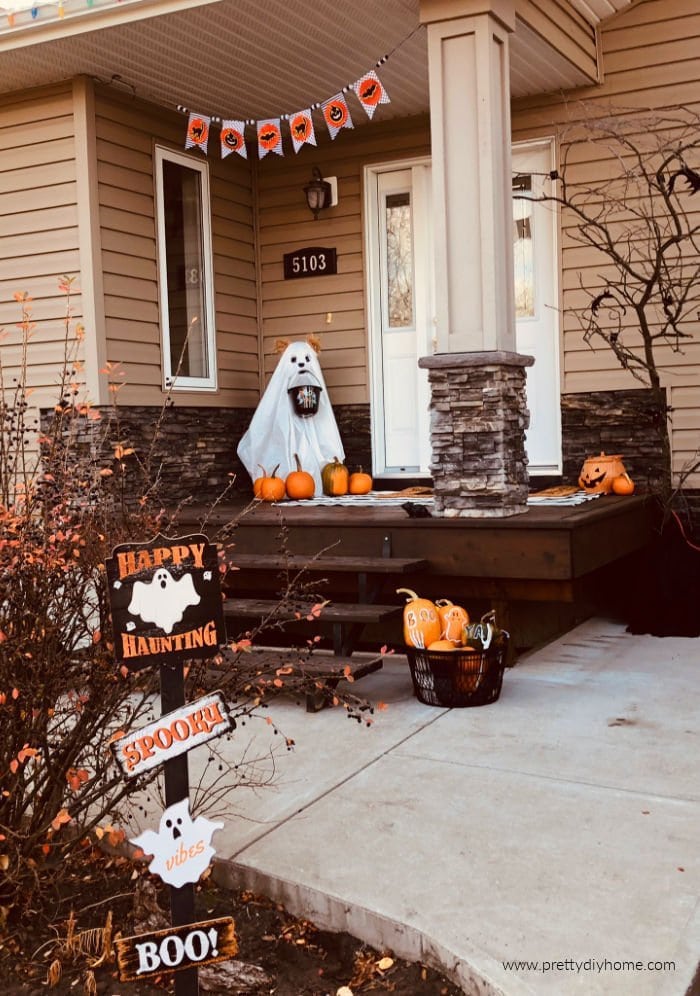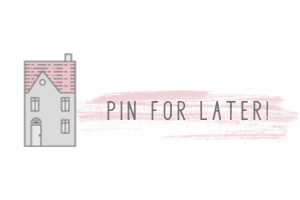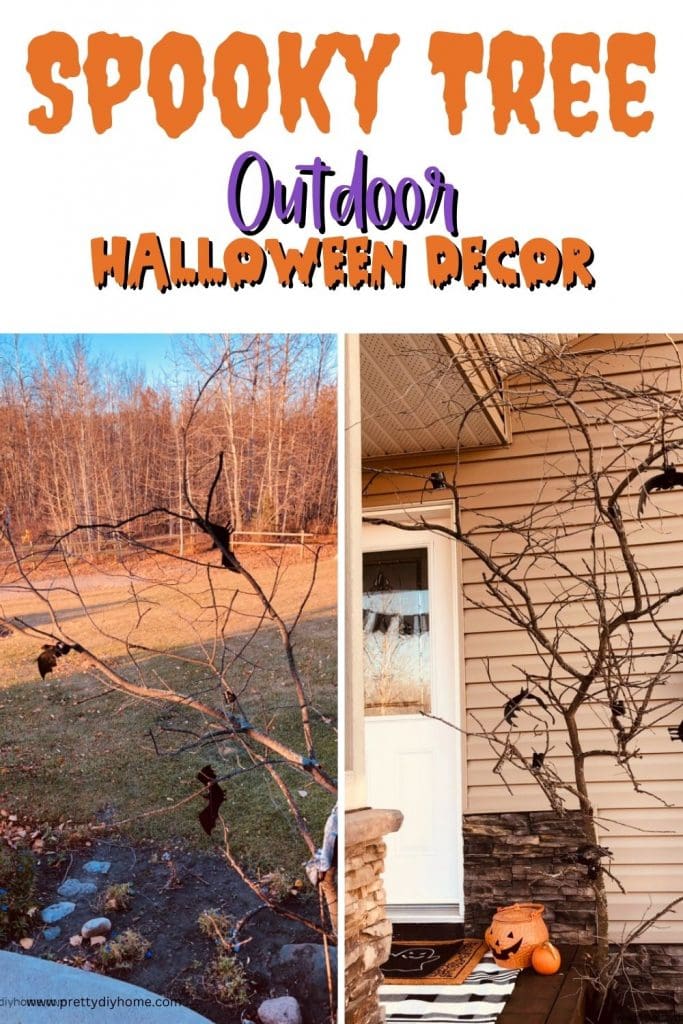 Other Halloween Outdoor Decor Ideas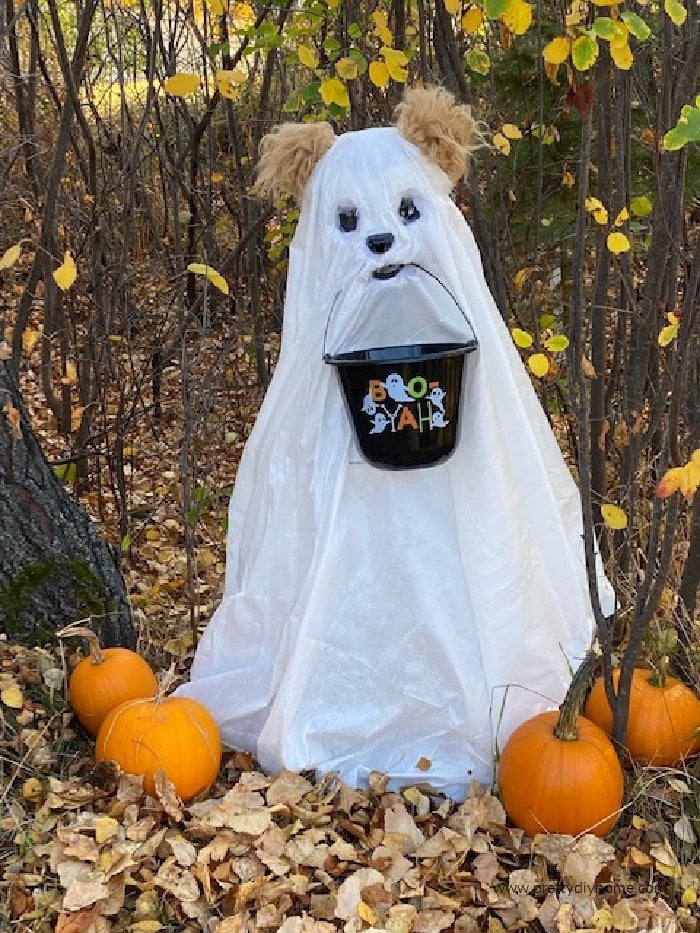 Halloween DIY Decoration Dog in Ghost Costume
This adorable dog in a ghost costume is made using Christmas lights, dollar store supplies and a Halloween mask.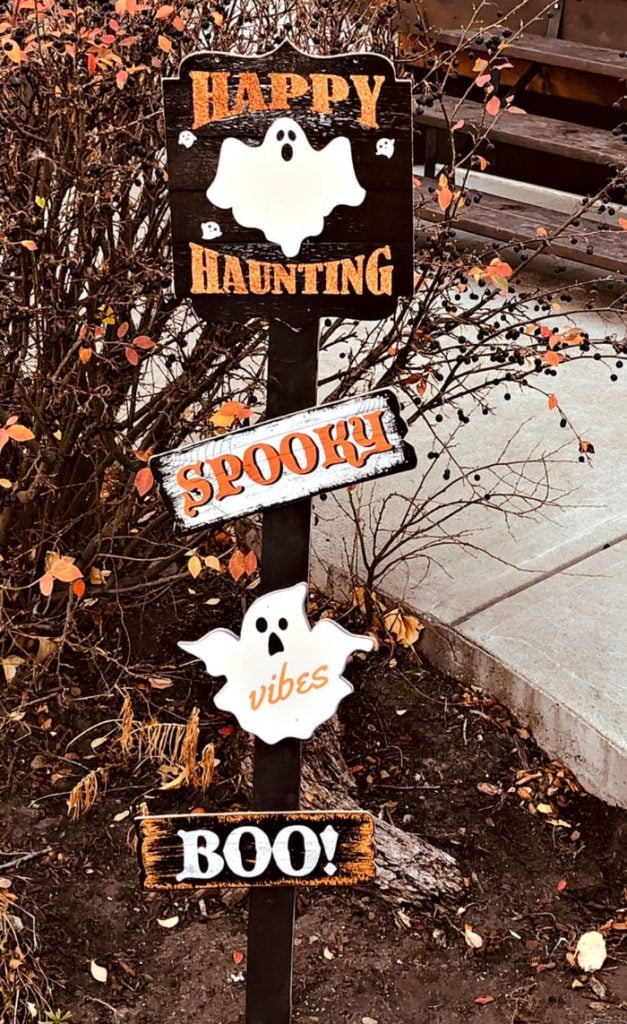 Halloween Outdoor Decorations DIY Sign
For less than $5 you can make this just a tad spooky DIY sign Halloween outdoor decoration. Its very easy to make using dollar store small signs, scrap wood and glue.
Halloween Doormat DIY
A last minute Halloween doormat DIY porch decoration using a dollar store mat and some pens.