Three Tier Tray for Fall in Neutrals
Three Tier Trays are Pretty and Functional
There are so many countless pretty three tier tray Fall arrangements on Pinterest, I just had to have one or maybe three trays . I thought the trays would be handy to gather items together and clear off counters. This one from Pier One is a must have because its galvanized, (it called to me like a diamond I swear). Once I brought it home I put it in the storeroom because I had no idea when I was going to use it.
Clear kitchen counters are a must have in my home, I don't like everything full of decor or anything else. If I have too much out I can't find anything, things have to be in their spot hidden in a drawer or closet somewhere. That is the only way I can keep track of whats where.
Fortunately, I have a "spot" set aside for one welcoming decor piece on my kitchen counter. You see it the second you enter the main room. It has to easily moveable because it's on my baking counter. Sometimes it's a cookie jar (I have a few of those) or a glass jar full of muffins. This Fall I pulled out my shiny new three-tier tray and made this easy to do Fall arrangement.
This year I am all about neutral Fall decor, if you prefer something different and colourful you may like my traditional fall coloured home tour. It was accented with teal.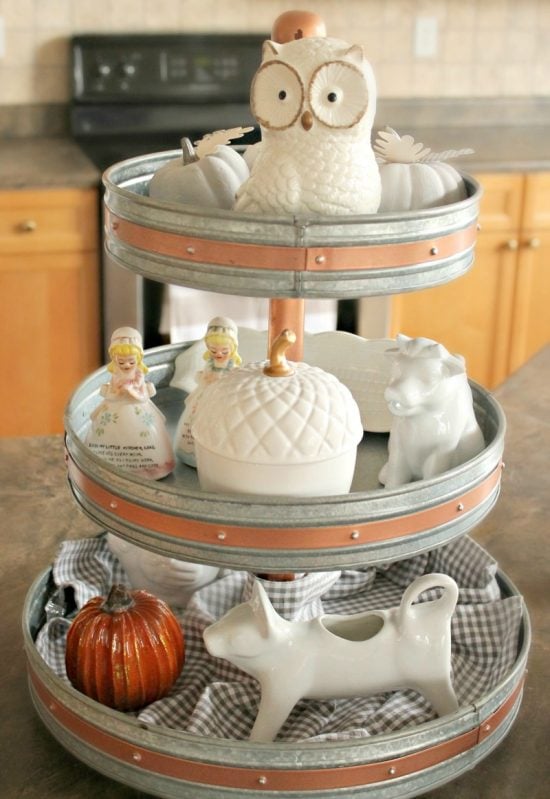 The top shelf has a little white owl at Home Sense last year, and dollar store pumpkins. The little pumpkins are updated with a quick coat of chalk paint and simple fall leaf cutouts. These little pumpkins would be cute setting placeholders, you could pencil the names in on the little beige leaves.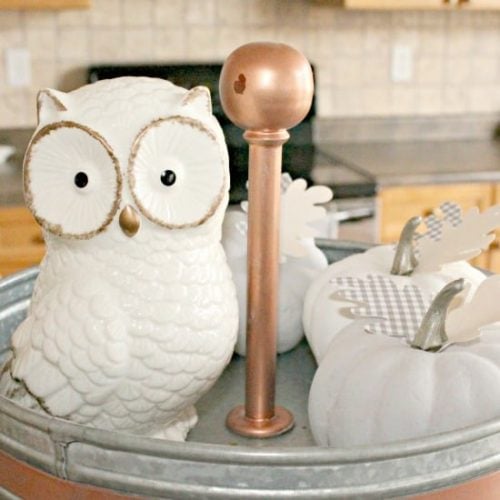 u
Vintage Decor with Memories
Adding some family heirlooms no matter how small adds a personal feel to your decor. These little maid vintage salt and pepper shakers, for example, are from my childhood. I "think" I bought them for my Mom when I was a little girl at Pat's news in Prince George to be exact. Although I am not sure. I do remember always finding them special, Mom and I would say the prayers together. They spend most of their time safely in the china cabinet, but today I get to post about them.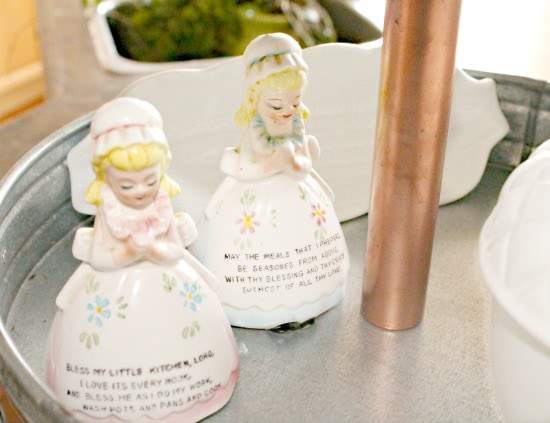 I filled the tray with some Home Sense farmhouse finds. The little white nut is a candy dish I purchased last year.
h
I already had a tea towel that matched the grey checked card stock paper I used on the chalk paint pumpkin. Not sure about you but that rarely happens with me, not unless I painfully search forever trying to find something just right. I love it when poof that it just happens.
Whenever I am shopping and come across something cute, white and priced correctly I grab it. If it's white it will fit in and get used. To the bottom tier, I tossed in the little dollar store orange pumpkin for fall. I have a few orange fall pieces that I still want to use, so I am peppering them through my fall decor.
Now that I have used this tray I have thought about a dozen decor uses for it. Perfume bottles, teacups, labeled jars full of craft goodies, cupcakes, muffins and squares. For the next couple of month's though, it will be my fall display.
l
u
Happy Fall, hope you are enjoying putting your decor together.
Like this simple decor? Pin for Later.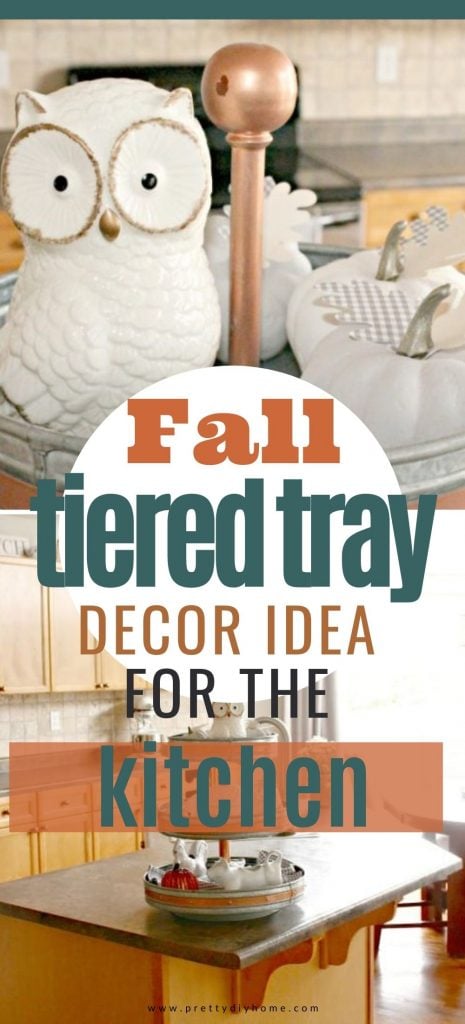 If you like bright neutral Fall decor as much as I do, I have a bundle of different ideas I have made for Neutral Fall Crafts.
I used the exact same three tier tray for a simple Fall Coffee Bar with some super easy to make DIY Coffee Signs