Witch Decoration for Your Halloween Front Porch
Halloween Porch Decor You Can Use Year After Year
This Halloween witch for our Halloween front porch is the start of something different at our house. Each Halloween I make something new to decorate our front porch for Halloween and give away last years. This year I decided to start creating ornaments to can keep and add to for next year. My favorite Halloween theme is witches and I am excited to show you how our witch turned out.
Witch Decoration Supplies
Old Chair and paint
Garbage bag, polyfil stuffing
Witch Hat
Dollar store witch wig
Hot Glue
Wire, and cutters, plyers
Pool noodles or black fabric
Zip ties and small rope
Embellishments like lace, and glitter
This witch is meant to look realistic and life sized so make sure to check out your thrift stores Halloween costume section. Look for accessories you can use. After that go to look at women's wear and grab anything sparkly and black or Halloween coloured. I purchased the witch in order to get a face, and basic structure so you can choose any large relatively inexpensive witch. This witch cost $45 to create, similar witch props in Canada are five times that.
Here is my little witch out of the box. Her hair is two strands, and she is a bit small to be life sized….. yet. I think she's fantastic though.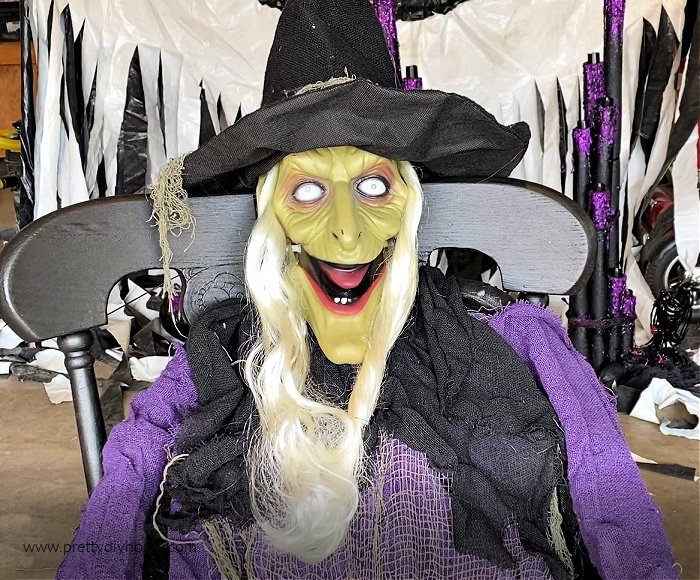 How to make a Witch Decoration for Outdoors
I recommend starting with the video. But here are the steps to take a hanging witch and turn her into an elaborate Halloween witch prop for your front porch.
Step 1 – Paint an Old Chair
Give any inexpensive chair a paint job in a Halloween colour. Its fine if its broken and in rough shape, as long as it sits squarely and has some back to it. I chose black for my $5 garage sale chair. The chair gives you something to prop you witch on to give her structure.
Step 2 – Add the Stuffing for Witch's Body
Begin by placing the witch in the chair and decide her placement. Take a black garbage bag and fill it with some stuffing, I used left over polyester fibrefill but you could easily use scrunched up paper as well. Stuff the black garbage bag until its about 6 inches thick and about 2 feet square for her body shape. Use some old rags and make a second smaller cushion to hide behind her head. ( I didn't do this to begin and added it later as a fix.) Add several zip ties to the top of the chair to prevent your witch from sliding down.
Place the witch on top of the stuffing and tie the bag around her middle to hold the bag in place while giving her a waist. Tie the rope with a bow instead of a knot so you can adjust it later.
Step 3 – Make Witch Update Choices
I want my witch to look larger. It didn't need legs but a longer fuller skirt to go to the floor to cover where her legs should be.
I did not want the witch to be as spooky or tattered as the original one looked, so I want her to have some sparkle, frill and a nicer witch hat if possible. Budget was tight, so I needed thrifted items.
We had a long weekend so the thrift store was closed, I made some matching purple sparkly and black pumpkins for the porch while I waited. The waiting was so worth it, I was able to find everything I wanted plus a matching broom, for $6. I added a wig from the dollar store for $4.
Step 4 – Make the Witch Appear Larger
Besides the stuffing, a larger hat, longer arms and a skirt that went to the floor was my to do list for making her look larger.
Lengthening the Arms
Rather intimidated I started with the hardest part and just started gently prying her apart to see the possibilities and it turned out to be quite easy. As expected the witch is poorly made, the fabric on the shoulders was barely attached with little bits of glue. A small tug and off they came. The wire for the arms weaves through the wrist so I cut it off above the wrist and extended the arms with an extra length of wire. The first arm is long enough to sit on the chair, so I wired it in place over her finger. The other arm I lengthened to same size and left free moving.
Hot glue the ends where you attached the wires.
Her arms were only an inch around. I used bit of leftover pool noodles from my Halloween candle project, I split one about 8 inches long and added it over her arms. You could also use old folded towels, or scrap fabric and small zip ties. Just wrap it around her arms and hold into place.
Adding a Skirt
Instead of trying to create some sort of legs I added black fabric to the witch matching sure the fabric went to the floor. Using a needle and thread I gathered the fabric with large stitches and attached the skirt to the underside of the witch. At the end I sprayed on some adhesive glue and gave her purple glitterr on the bottom of the skirt.
Step 5 – Decorating the Halloween Witch
Have fun with this part, decorating her and watching her develope was so much fun. I knew she needed more hair, and some more hair, the witch had beautiful hair but not nearly enough of it.
Carefully remove the existing witches hat and set aside to use as stuffing for her new hat. My witches hat was simply glued on, but I was glad that I removed it carefully as it took the back of her mask off. Her head was actually just a mask with a piece of fabric on the back.
Attach the Hair
The next step was to give her some extra hair. I found a wig at the dollar store, and then cut the strips of hair into sections. On the back of the witch decoration's head where the fabric was I sewed the hair on, gathering it to add more hair to the back of her head. The front section.
Add the Witches Hat
Stuff the top of the witches hat with the old hat, polyfil or rags. Just add enough stuffing to make the hat stand up. Once the hat is stuffed, hot glue it back on the witches head.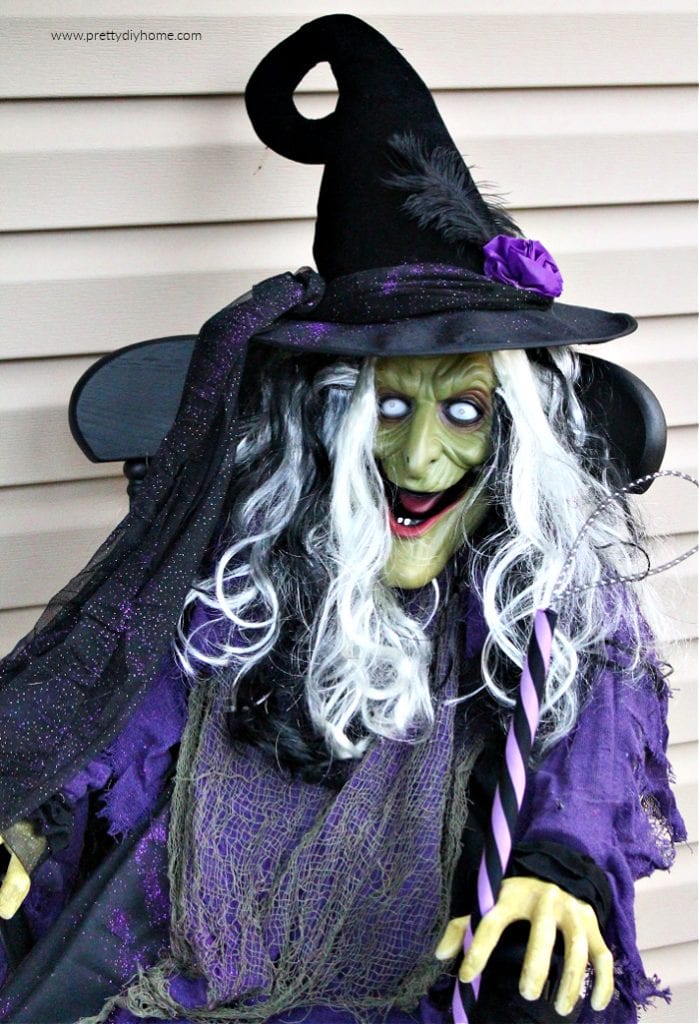 Step 6 -Adding Embellishments
I chose to add a sparkling ribbon to her hat and use the excess around her wrists. Then added ruffles. You could also give her some sparkling rings or long necklace as well. As a final touch I gave her a sparkling witches broom.
Placing your Witch Decoration Outdoors
Its cold where we live, and typically quite windy. This witch decoration can sit outside on our covered porch as seen below. Our witch decoration can withstand a good breeze as she is attached to a heavy chair, but I would avoid letting her get rained on.
Witch Decor for Outdoors Video
I am cold in a scruffy hoodie of hubs enjoying time in the garage crafting while he's away for a couple of days. It was fun to put this witch together, and I have created a video tutorial of how I did it.
Storing your Witch Decoration
To store the witch my plan is to remove her from her chair. Her hat is stuffed so that it won't crush when packed away. Her body stuffing will be dismantled and I can reuse the stuffing and the garbage bag replacing them next year.
Everything else will be folded in arms over the front and then the bottom folded up to protect the face. She will fit into a plastic bin or box and then stored for next year.
Want to create this Halloween decor. Pin it to save it.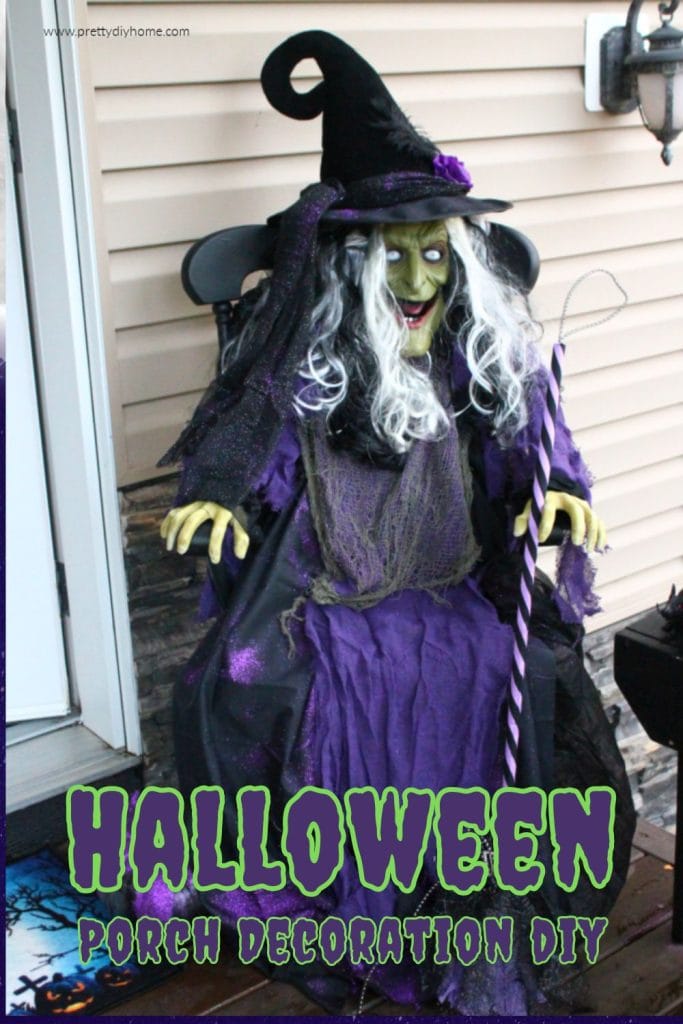 Other Halloween Decor DIYs
Halloween is my second favorite crafting season because its so playful and easy to be creative, and less fussy and perfect than other holidays. Here are some other ideas for outdoor Halloween diy decorations.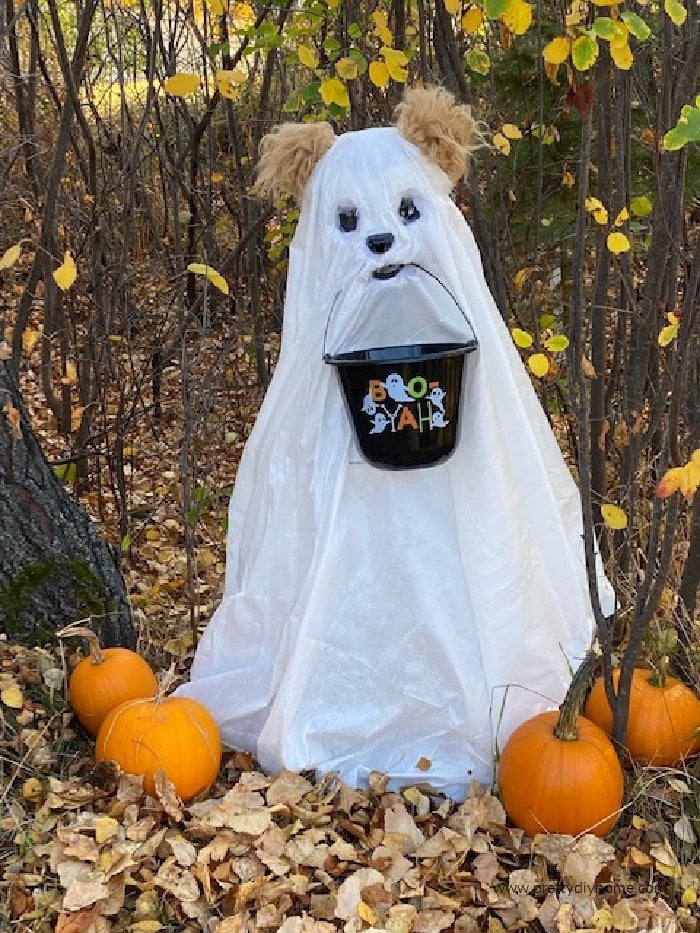 Halloween Ghost Dog DIY for Outdoors
This little ghost dog Halloween decoration is made using a mask, tomato cage and plastic sheeting. It lights up at night and the trick or treaters loved it.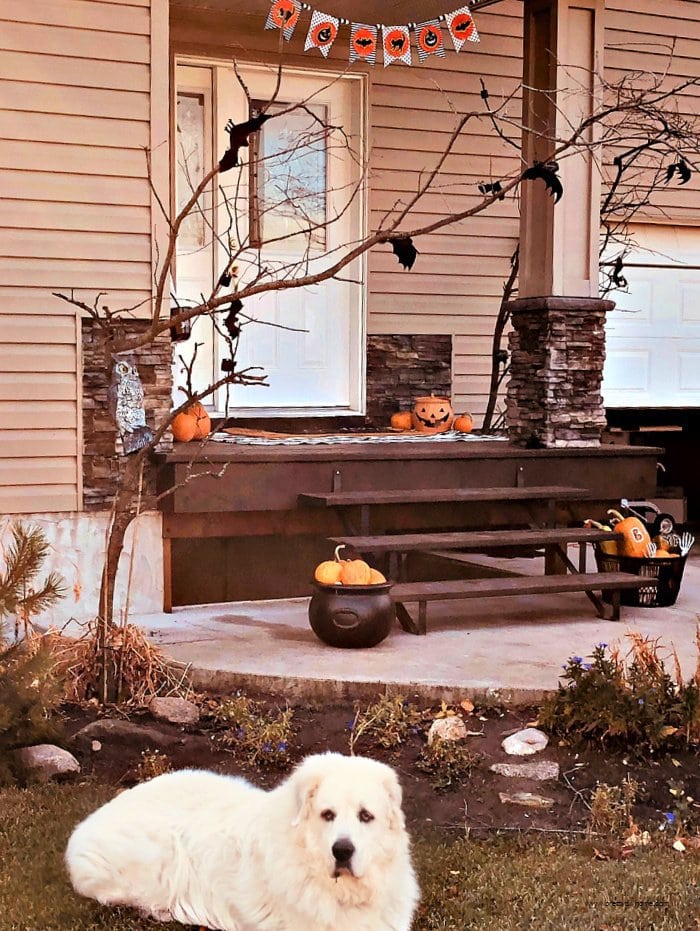 Spooky Tree DIY for Halloween
Spooky trees for Halloween are surprisingly easy to create. These ones held in place and gave an eerie feeling to our front porch for Halloween.