39 Halloween Food Ideas with Recipes
A Collection of Halloween food ideas that are spooky, spell-binding and fang-tastically delicious for Halloween. Amazing and creative Halloween food desserts and easy halloween treats.
12 Spooktacular Halloween Cakes, Cupcake and Pops
These cute and spooky Ghost Cupcakes are perfect for Halloween! Made with a simple black chocolate cupcake base and dairy-free vanilla buttercream frosting. A unique Halloween Party Treat.
Spiderweb Cupcakes for Halloween
A super fun and delicious Halloween cupcake toppers. You can just make them ahead and pop them onto any easy cupcake recipe you like. Or onto a purchased cupcake for a last minute party contribution.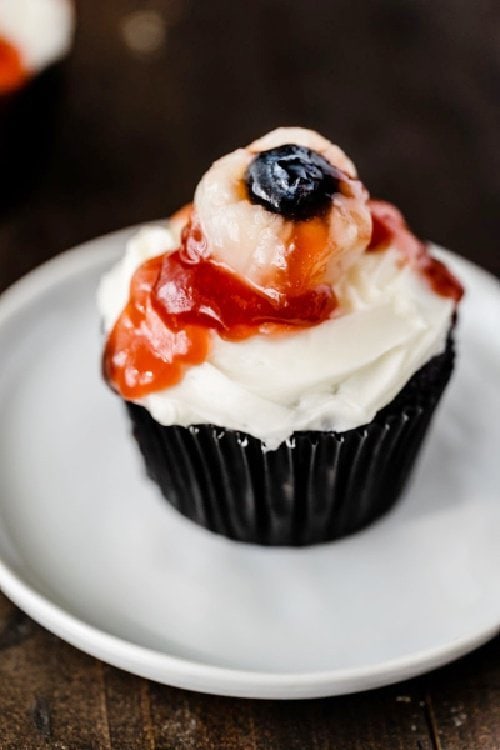 Eyeball Cupcakes for Halloween
These Eyeball Cupcakes for Halloween start with a delicious and moist chocolate base. Then cream cheese frosting is added with eyeballs made out of canned lychees, blueberries and strawberry jam "blood." I love how creative this recipe is.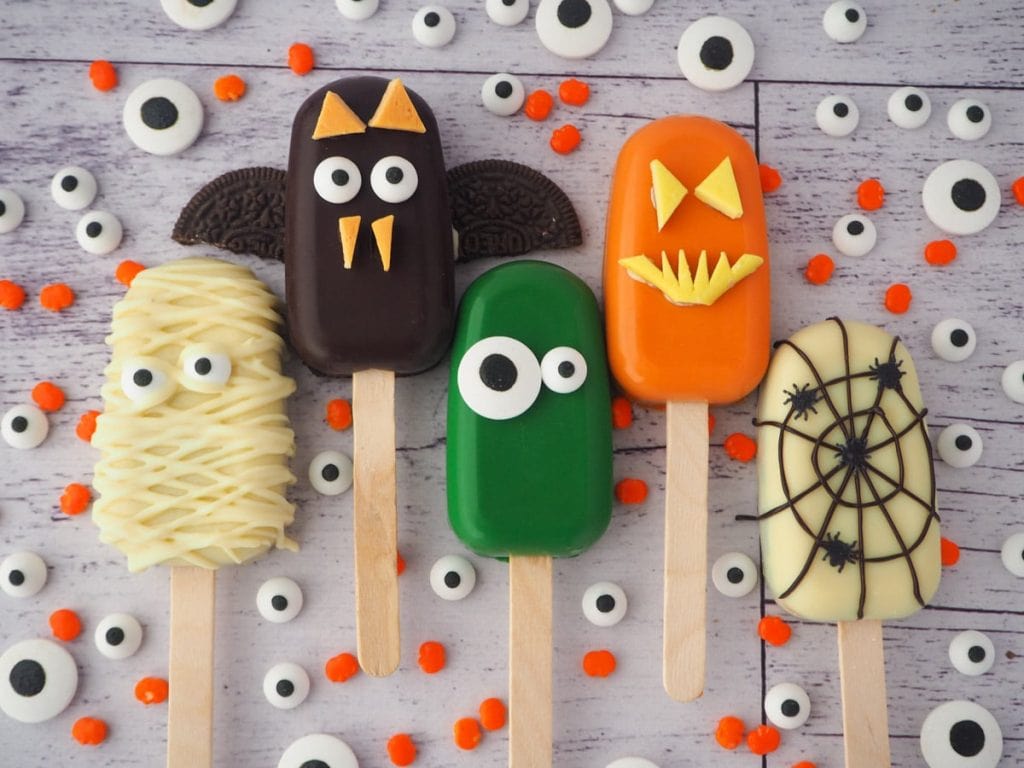 Halloween Cakesicles
These Halloween cakesicles are a super fun and cute Halloween treat! Kids and adults alike will devour these. Perfect for a kids halloween party or a special family treat.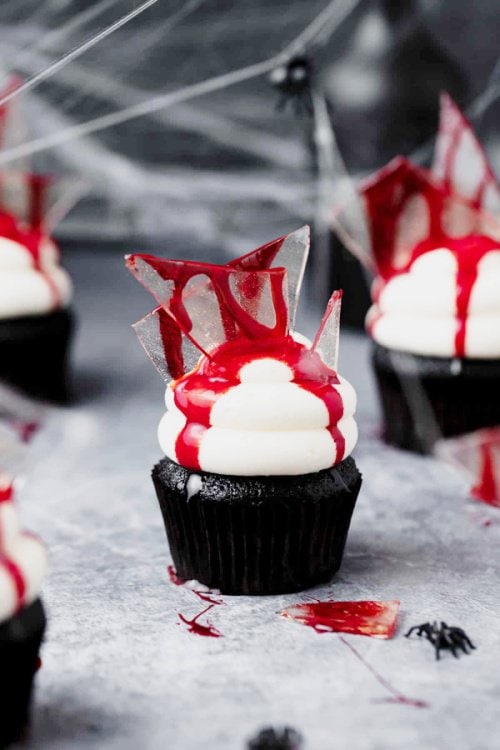 Bloody Broken Glass Cupcakes
These spectacular bloody broken glass cupcakes are so impressive and creepy. Barley and Sage created this recipe using a black cocoa cupcake base that filled with creamy white chocolate ganache blood. Then topped with white chocolate buttercream, edible sugar glass shards, and edible fake blood!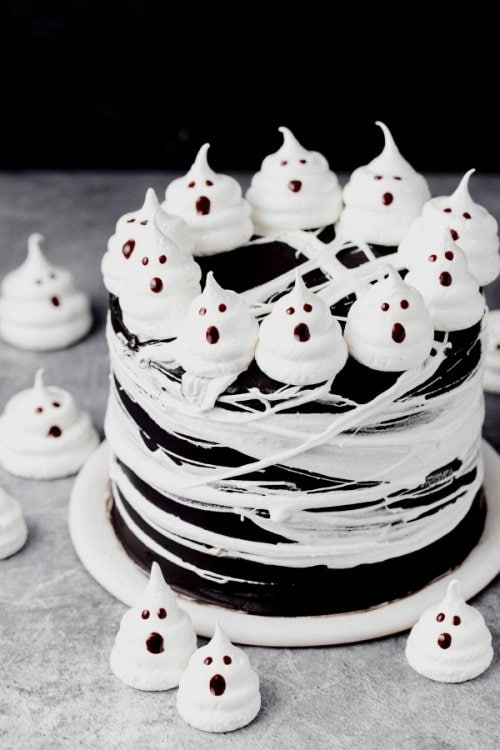 Three Layer Black Cocoa Cake
This three layer black cocoa cake is spooktacular. What an amazing Halloween cake recipe. Perfect for a Halloween dinner party, or someone having a Halloween birthday.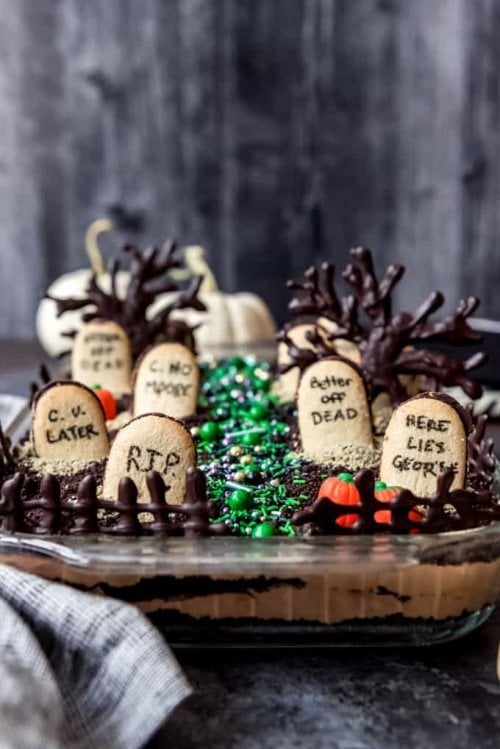 Graveyard Dirt Cake
A classic Halloween dessert recipe made completely from scratch.
Halloween Peanut Butter Cupcakes
Most Peanutbutter chocolate cupcakes with peanut butter frosting and cute spiderwebs complete with spiders.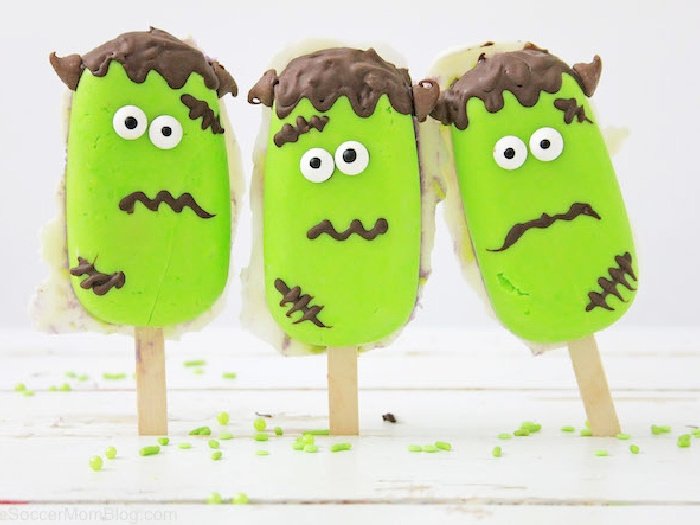 Frankenstein Cake Pops
lSpooky and fun Frankenstein themed cake pops. These are perfect for a Halloween party of little hungry goblins.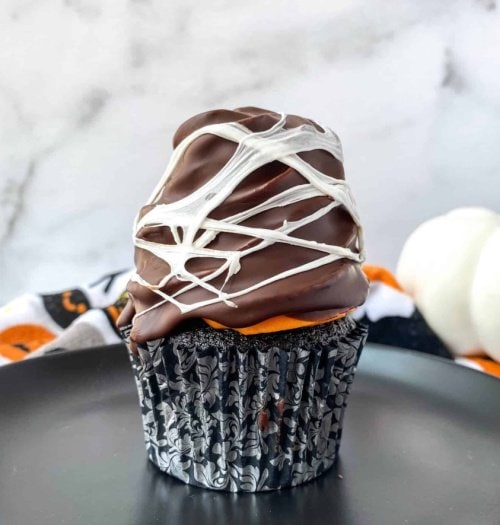 High Hat Cupcakes
These High Hat Cupcakes are super chocolatey, frosted SKY-HIGH with vanilla buttercream, then dipped in chocolate! The spooky marshmallow "webs" are so much fun!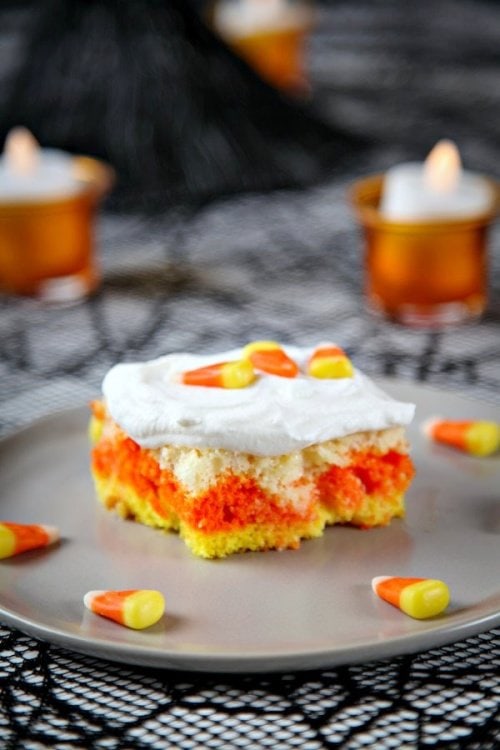 Candy Corn Poke Cake
An easy to make Halloween cake that begins with a cake mix. Its colorful and fun for Halloween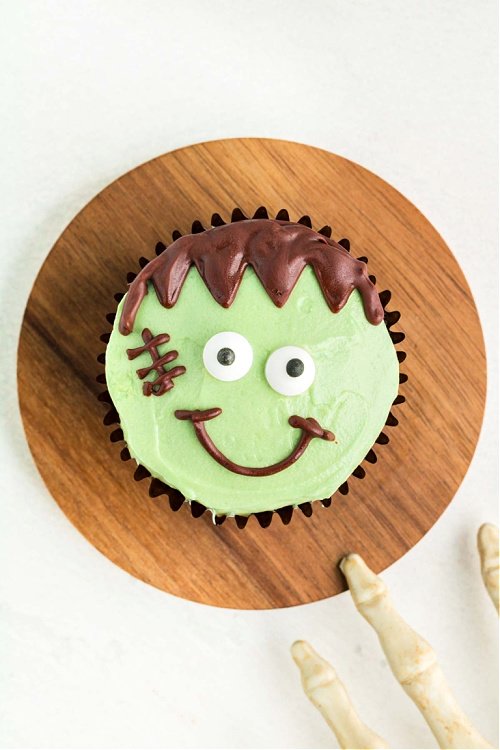 Frankenstein Cupcakes
A from scratch recipe for cupcakes that can be made gluten free is needed. I really like how easy these cupcakes are to decorate.
5 Savory Halloween Food Ideas for Snacks
Air Fryer Mummy Dogs
A great Halloween night dinner idea for trick and treaters excited to start their Halloween.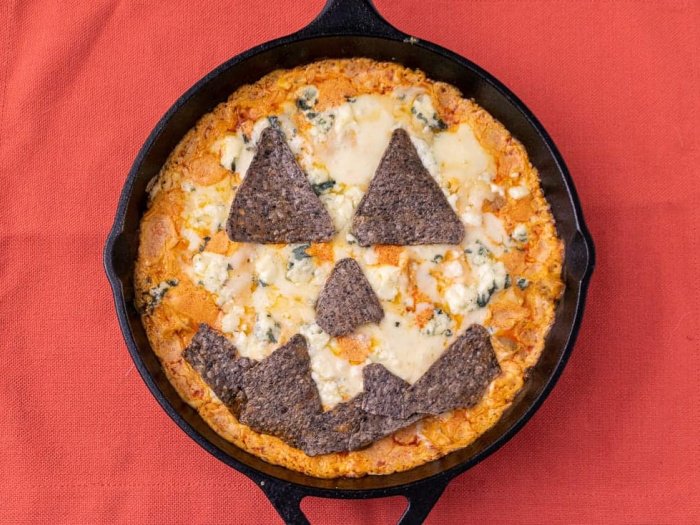 Halloween Buffalo Dip
Halloween buffalo chicken dip is a baked in a cast iron skillet. A spooky jack-o-lantern face is added with black tortilla chips making this an easy spicy chicken Halloween party dip. Pair it with a Halloween movie and enjoy!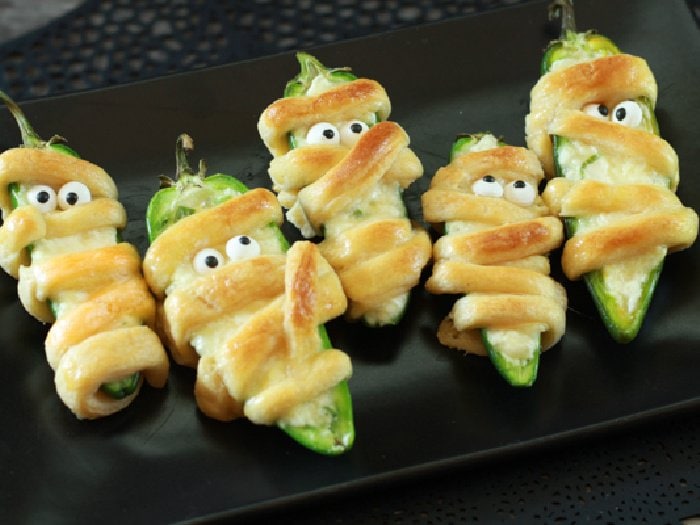 Jalapeno Popper Mummies
A perfect spooky adult appetizer for Halloween. These buttery and spicy mummies are sure to disappear at your Halloween party.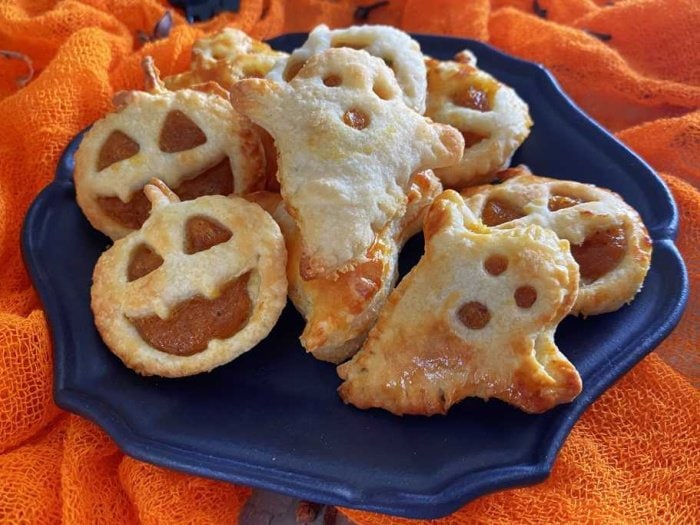 Instant Pot Halloween Pumpkin Empanadas
A perfect treat for Halloween thats both easy to make and loaded with flavor.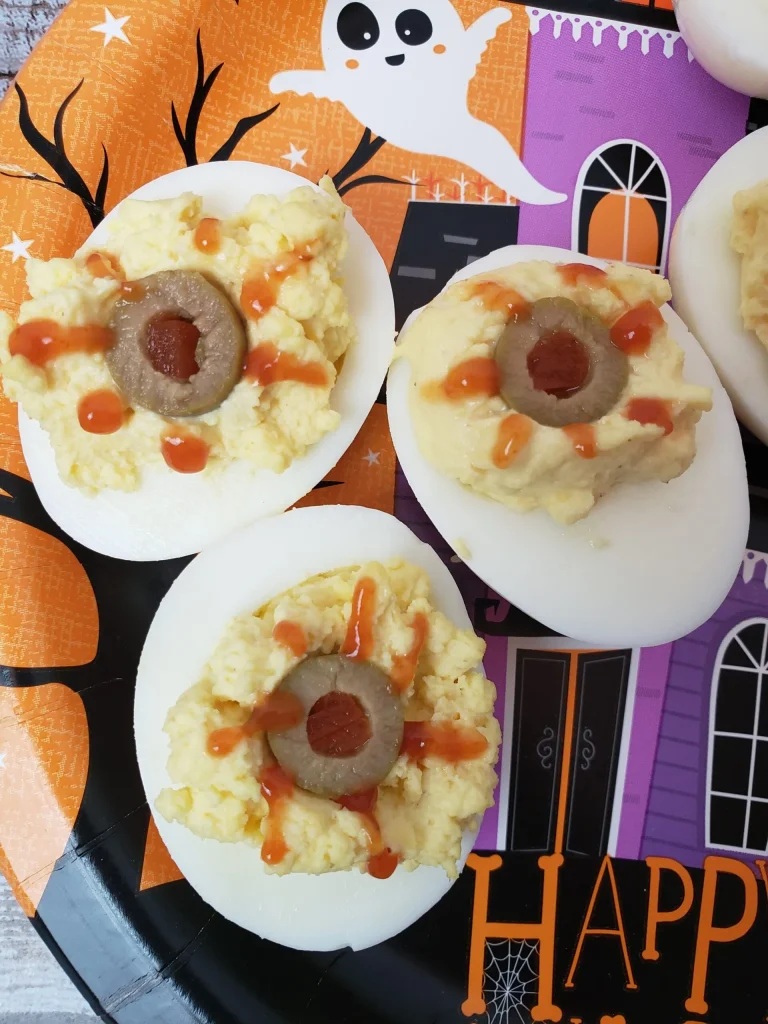 Halloween Bloodshot Eyes Devilled Eggs
A really fun way to treat guest at your next Halloween party. They are creepy and delicious.
15 Yummy Halloween Treats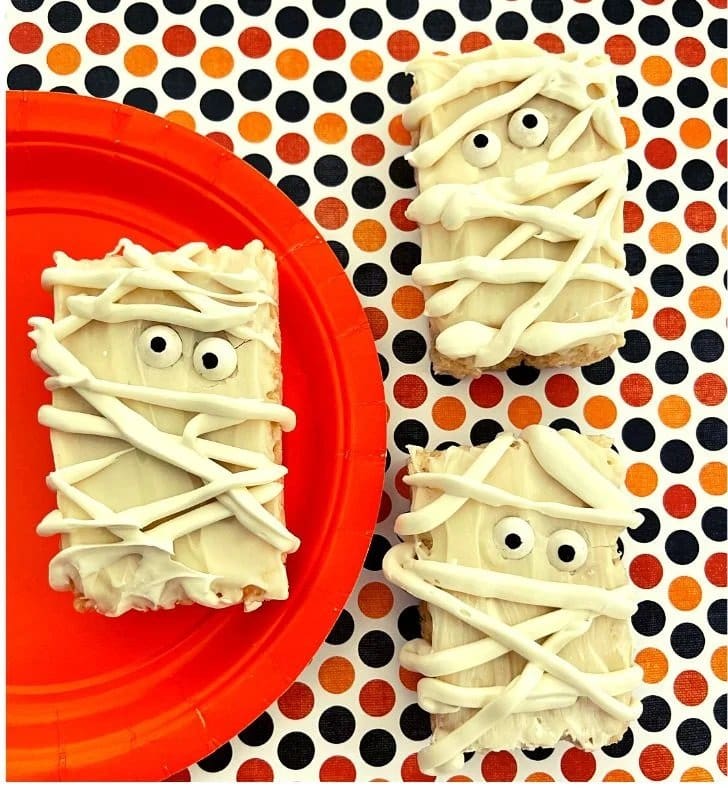 Mummy Rice Krispie Treats
The only cooking step for these Mummy Rice Krispie Treats from Intelligent Domestication is melting candy melts in the microwave. It doesn't get easier or faster than that.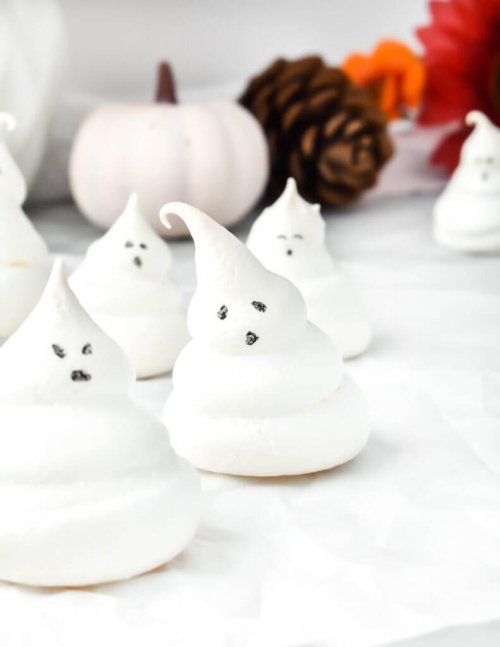 Meringue Ghosts
A simple yet impressive Halloween dessert recipe. These Meringue ghosts only use five ingredients. They are so much fun, and you could use them as a fancy embellishments on any Halloween dessert.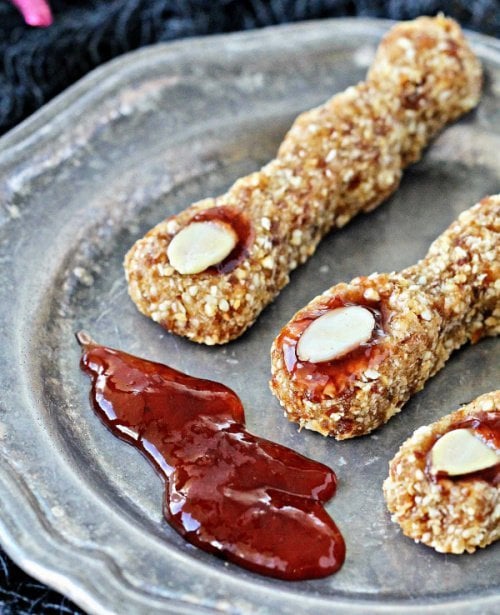 Wicked Witches' Fingers
Don't be scared of these spooky witches' fingers they are pretty good for you.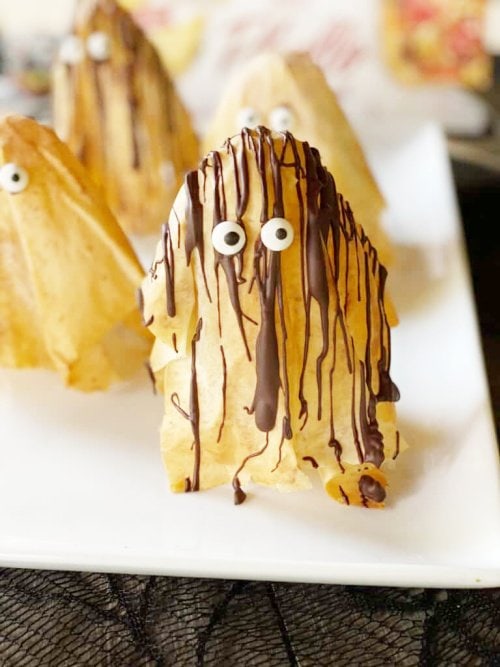 Spooky Halloween Ghosts
A fun Halloween dessert recipes kids will love. Its not only simple to make you don't need a special mold for the phyllo.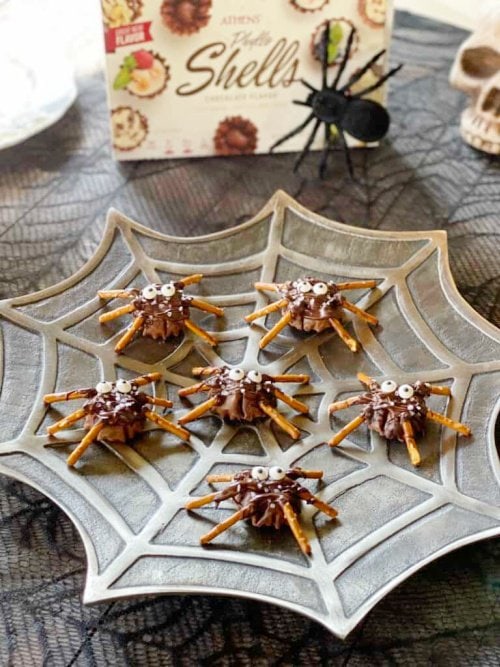 Chocolate Pretzels.
A kid friendly Halloween treat thats both easy to make and delicious.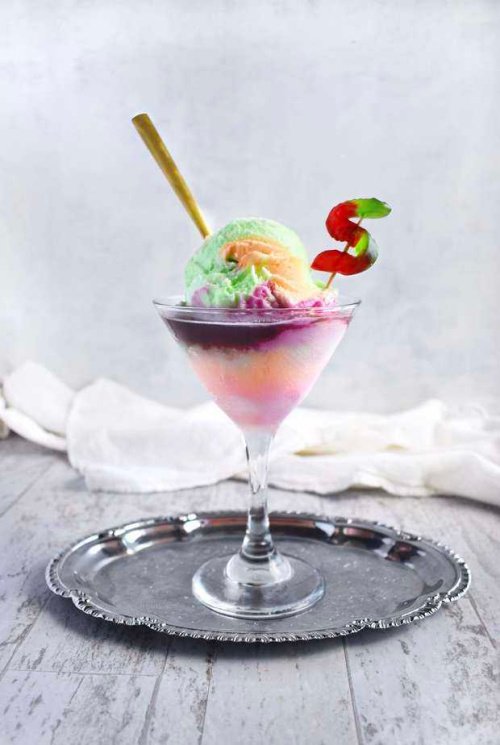 Hocus Pocus Potion Float
A Halloween ice cream float, garnished with gummy worms. A fun perfect drink for your next party.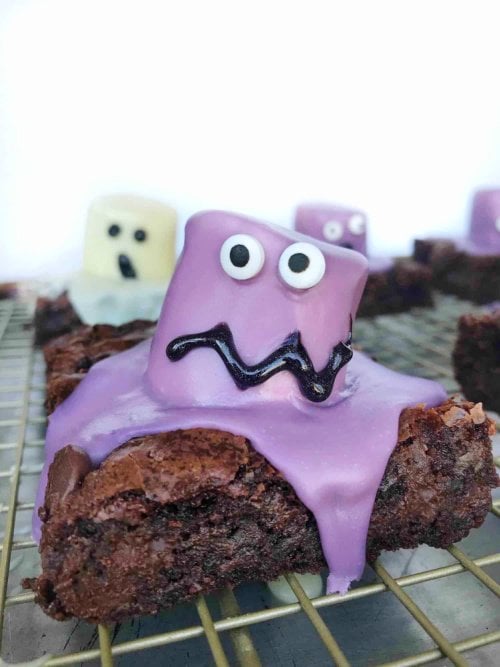 Monster Mash Brownies
These monster bash brownies and spooky AND cute. A sweet brownie topped with a marshmallow monte and white ganache. This is a monster we can't wait to take on.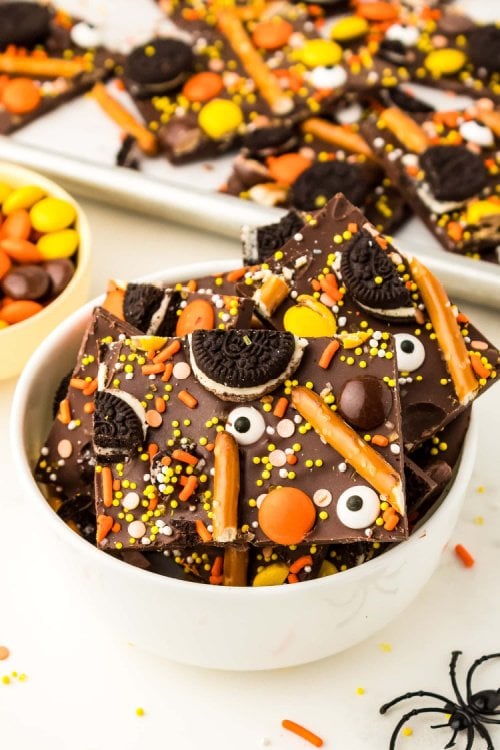 Halloween Bark Recipe
Halloween bark recipe thats easy enough for children to participate in. They are such a delicious combination of salty and sweet . This Halloween bark with pretzels and oreos looks wickedly amazing.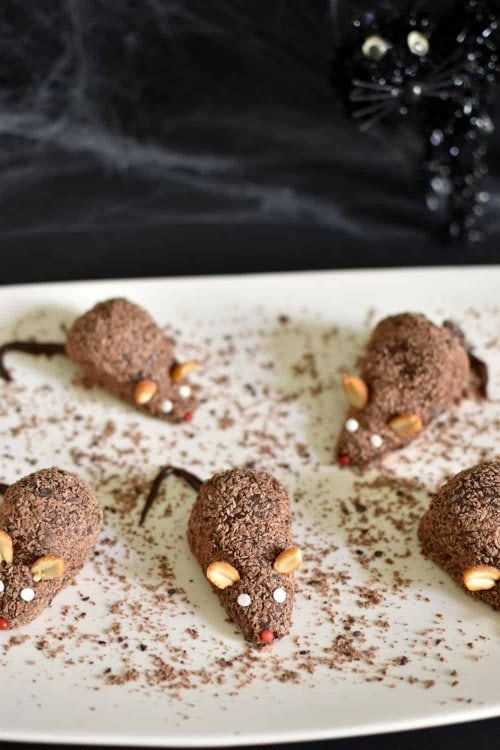 Strawberry and Chocolate Fudge Mice
Oh my gosh these treats are so creepy! But then they are strawberry and chocolate Halloween dessert. So much fun to serve for Halloween.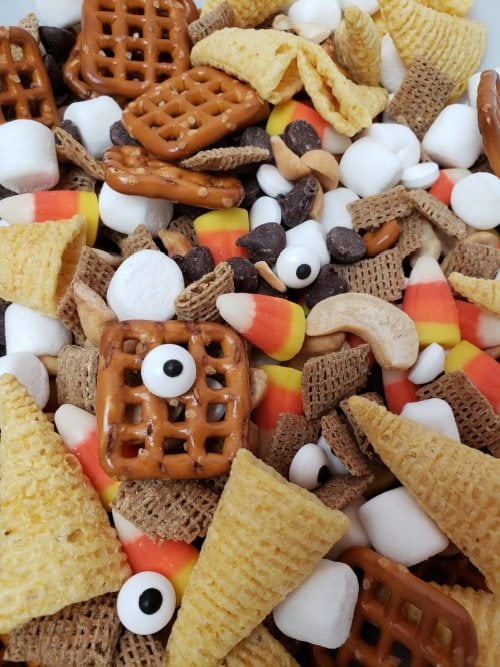 Halloween Scary and Gross Snack Mix
With a mix of eyeballs, fingernails, scabs, teeth and more, whats not to love? Gross and fun.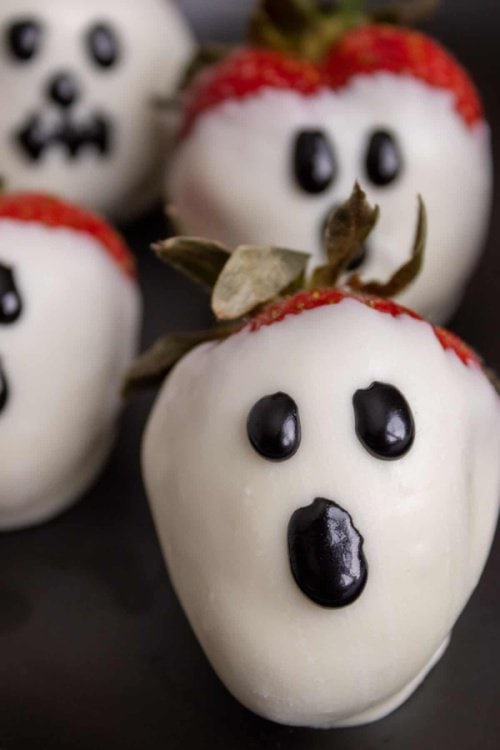 Halloween Strawberries
Chocolate covered Halloween Strawberries with just a little bit of spooky. An easy Halloween themed treat for your Halloween party or a Halloween dessert.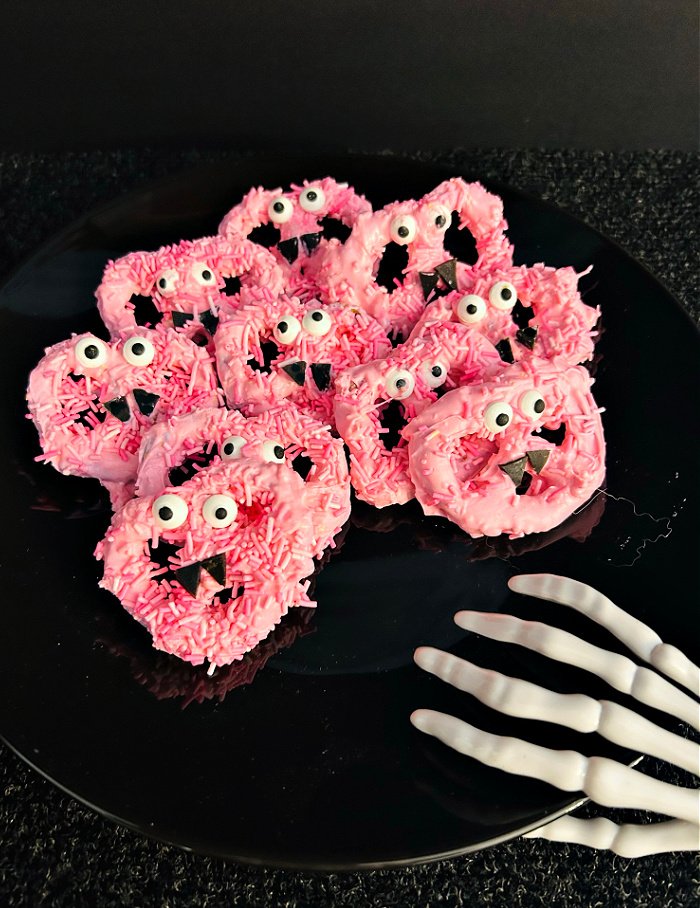 Pink Monster Halloween Pretzels
These little pink pretzel monsters could no be easier to make. A fun and quick party food for Halloween.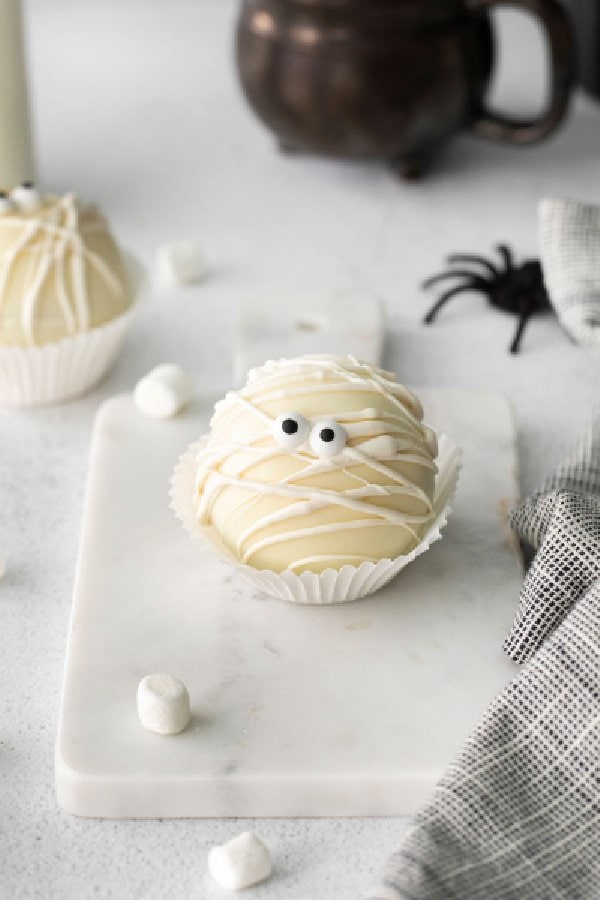 Halloween Hot Chocolate Bombs
A great way to warm up after a chilly evening of trick or treating.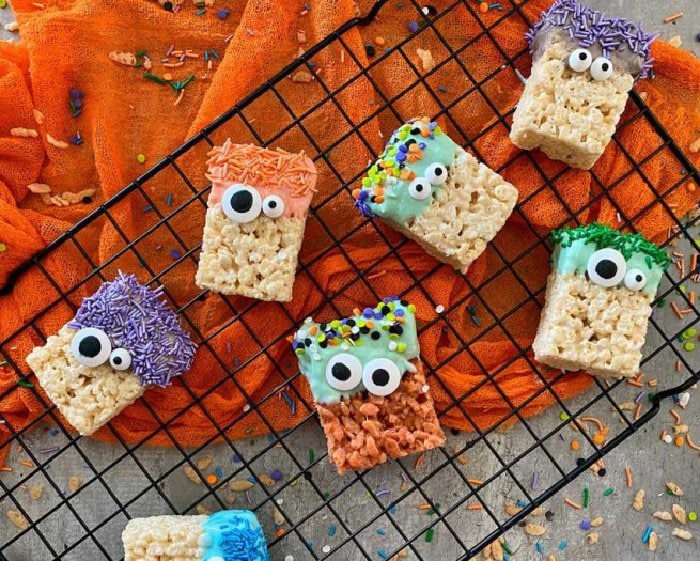 Halloween Marshmallow Treats
Marshmallow and rice crisps. An easy colourful no bake treat.
Easy Halloween Bark
An easy to make Halloween treat you can do as a family. Everyone will have fun creating spooky candy designs as they make their own treat.
7 Halloween Cookie Recipes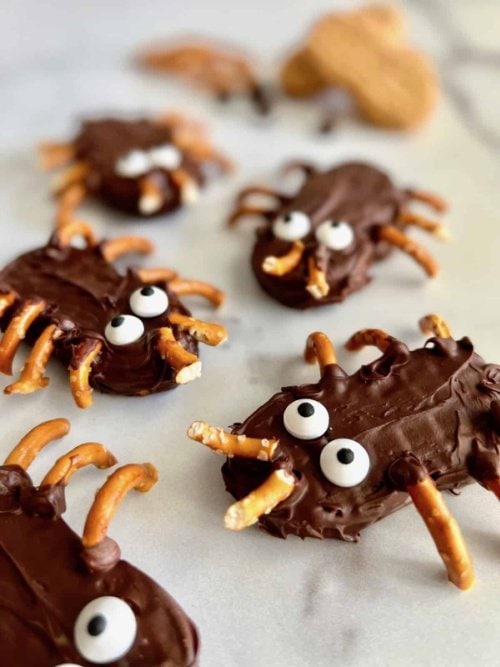 Bug Spider Peanut Butter Cookies.
These spooky and creepy looking peanut butter cookies are actually delicious. These Halloween treats are sweet, salty, & crunchy.
Spooky Spider Cookies
Make these cookies with your favorite peanut butter cookie recipe or use store bought. Add some whopper spiders for a fun Halloween dessert.
Witch Finger Cookies
This recipe for whole wheat witch finger cookies replaced the food colouring with jam for the "blood" . They definitely kept their Halloween creepy though.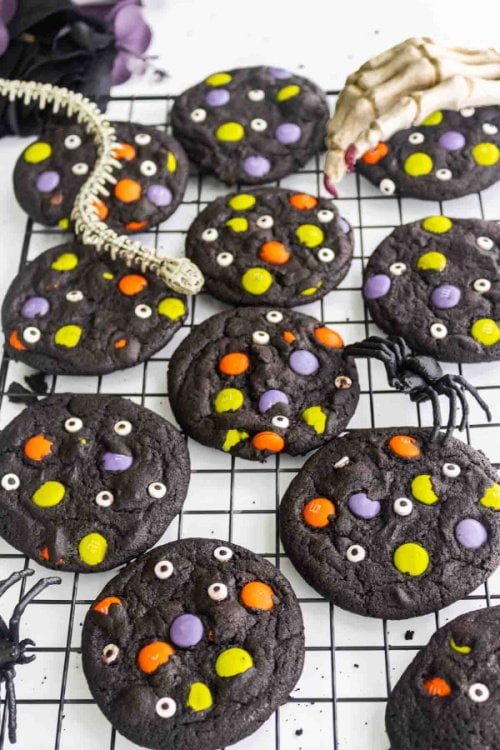 Easy Halloween Cookies Recipe
This Halloween cookie recipe make cookies that are festive, cute, soft and delicious! The black cocoa give them their distinct dark colour.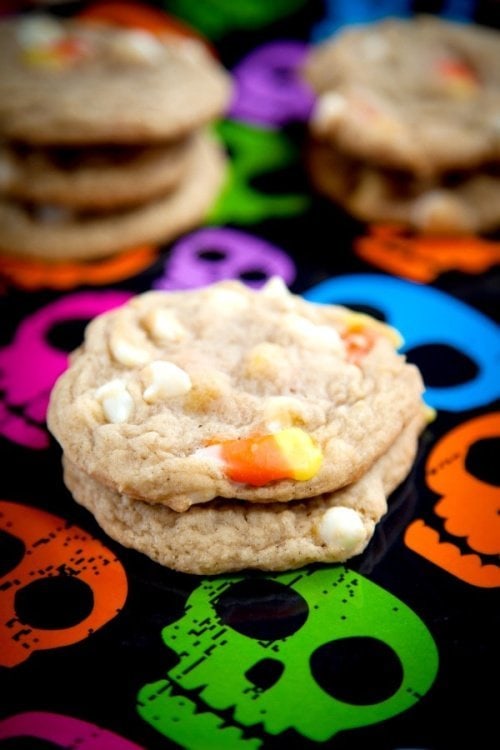 Candy Corn Cookies
Chewy candy corn cookies featuring white chocolate chips of candy corn. A fantastic school lunch treat that would transport very well.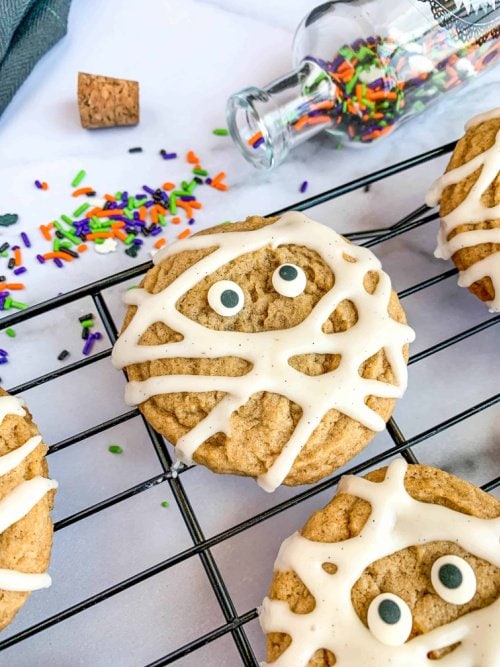 Maple Cinnamon Cookies
A soft chewy and delicious cookie with a maple vanilla glaze that turns the little bits of yumminess into mummies.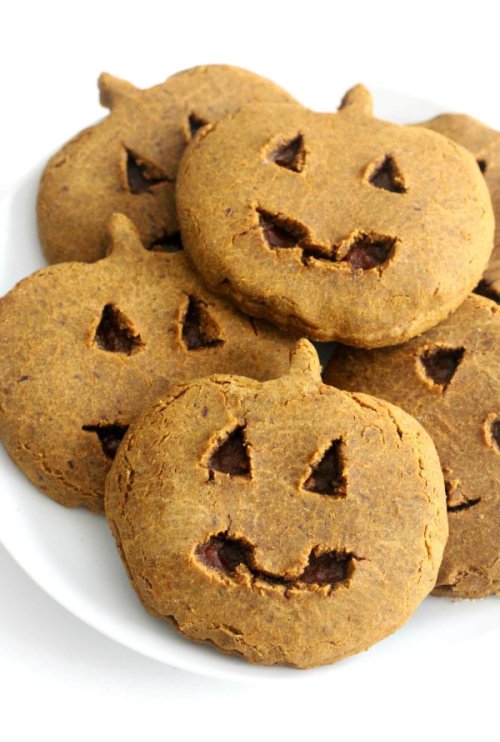 Pumpkin Delight Cookies
Copycat version of the seasonal treat everyone loves. This version is much healther. A soft spiced cookie with a carved spooky face and delicious pumpkin butter.
Want to try a couple of these recipes? Pin it or share with a friend.
Some Other Halloween Collections to Check Out
30 Mummy Halloween Ideas
Mummies are such a classic Halloween idea anthats both affordable and easy to recreate. Here is a collection of my favorite mummy Halloween ideas.