Witch Halloween Costumes, Decor, Recipes & Crafts
45 Halloween Witch Ideas for a Whole lot of Fun Hocus Pocus
No matter how you like to celebrate Halloween, if you like witches I am sure this roundup has some ideas you will love. Whether your wanting to create a spectacular one of a kind witch costume, need some witch decorating ideas, make some pretty witchy Halloween crafts, share some witch goodies with your kids school friends, or family, you should find several inspiring witch ideas. I love using witches in my Halloween decorating, because you can make it as kid friendly or scarey as you like. As an added bonus witches are usually thought of as feminine, and why not let us girls rule Halloween.
Witch Costumes DIY
As my trick and treaters decided to get old I don't get to enjoy creating Halloween costumes, and I use to make very elaborate ones. They really do grow up much too fast. Witch costumes are available everywhere during Halloween, but these Moms created some magic for their littles and shared the patterns and how tos so you can too. All of these ideas are achievable, affordable and one of a kind. disposable.
Looking through all the different more fun than spooky Halloween witch costumes really put me in the mood for Halloween. There really is nothing more enjoyable than watching the little trick and treaters come to the door so proud in their costumes.
Witch Decor & Halloween Witch Decorations
Check out the witches boots, snazzy socks, wild and beautiful hats,spooky Halloween mantels, for both indoor Halloween and outdoor Halloween decoration ideas.  I wish I could create a spell and make all of these Halloween witch decorations.
Halloween Witch Crafts
Crafts are the perfect Fall past time, and Halloween crafts are one of those activities most children are happy to do. Here are several witch theme crafts you can do yourself or as a family.
So now we have the kids Halloween witch costumes, Halloween DIY witch decor, Halloween witch decorations and some Halloween witch crafts covered, now we have loads of amazing Halloween witch themed recipes. Every year it amazes me how much creativity, energy and love is put into Halloween. No wonder children love it.
Halloween Witch Recipes
Of course I found lots of amazing witch themed recipes. So many inspiring ideas for those Halloween gatherings. I have created two categories, on for Sweet Treats and another one for not sweet Halloween Meals and Halloween Appetizers. There are lots of wicked good ideas, these bloggers worked their magic with simple ingredients.
I know there are a few witch cupcake ideas on my post, but each one is different and some are more elaborate than others. I think its always good to have a choice and I found them all very well done.
Halloween Witch Beverages
Halloween Meal and Appetizer Recipes
Less sugary ideas are always welcome at any holiday, including Halloween. One of our family traditions was making something creepy for Halloween night and eating it before we went trick and treating. There are some really great examples in these next posts. Witch Hat garlic bread served with chunks of cheese, and a couple dollar store rats on the platter sure seems like fun. Or maybe some black pasta or witchy guacamole. Lots of fun ideas I hope inspire you like they did me.
Pin This to Have it for a Witchy Enchanting Halloween!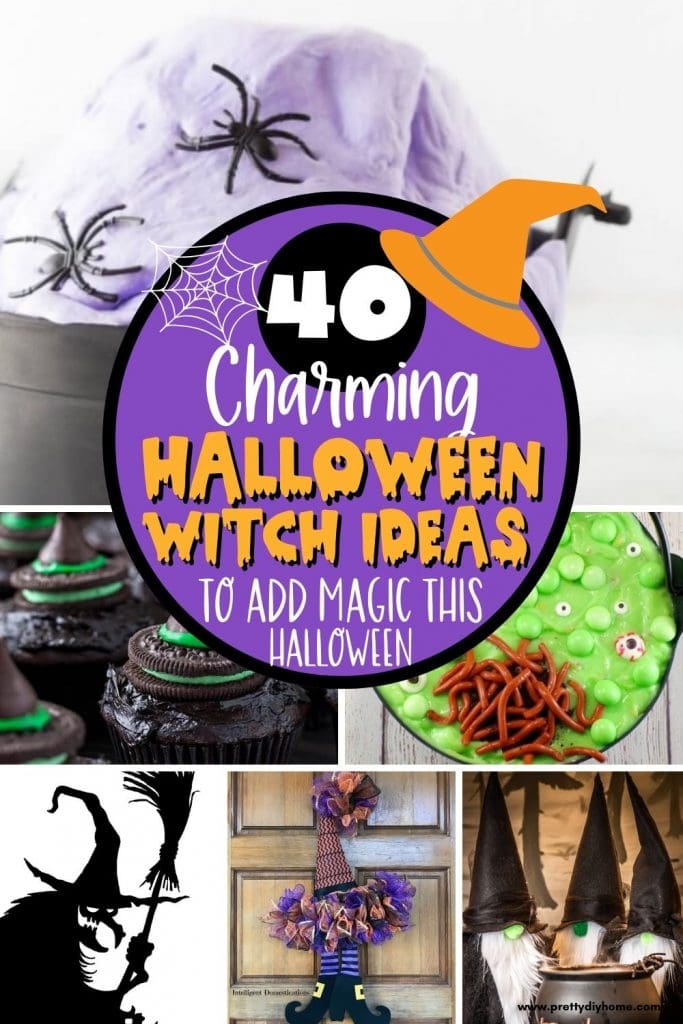 Other Ideas for Halloween