Easy Way to Remove Dog Hair from Carpet and Stairs
A Quick and Effective Hack to Remove Dog Hair from Carpet
I don't write about cleaning, mainly because we do and have done way too much of it. So why am I writing a cleaning post today? Where's the fun in that? Its because I solved a painful, exasperating, never ending, and oh so annoying problem I have with dog hair and thought you may have the same issue. Isn't removing dog hair from carpet the worst? Seconded by laundry, and the car, and our clothes lol. So today I am going to share how to remove dog hair out of carpet.
Hubs and I met late in life after all the munchkins were grown, but we got a fur baby dog we adore. We got our Great Pyrenees puppy on family day Monday eight years ago and bought a steam cleaner on the Friday. I love the big lug, accept the mess willingly, laugh and say hair is a condiment. But I have definitely had some cleaning challenges to solve. Today I am weirdly proud to share this hack for removing pet dog hair from carpet, and more specifically from carpeted stairs. As embarrassed as I am to admit it, this little hack made me so happy, I had to share it.
In the main areas of the floor, I just vacuum all the time, but in the high traffic areas, like where puppy lays to sleep, or heaven help me the stairs, the carpet power head just doesn't work well. Because dog hair is a fact of life in our home, I have burned through three power heads, and two small hand held power heads, and two steam cleaners conquering hair.
If your new to the blog, let me introduce you to Exhibit A. He's not too sure about the camera, but I managed to snap a picture between tossing him snack to catch in the air.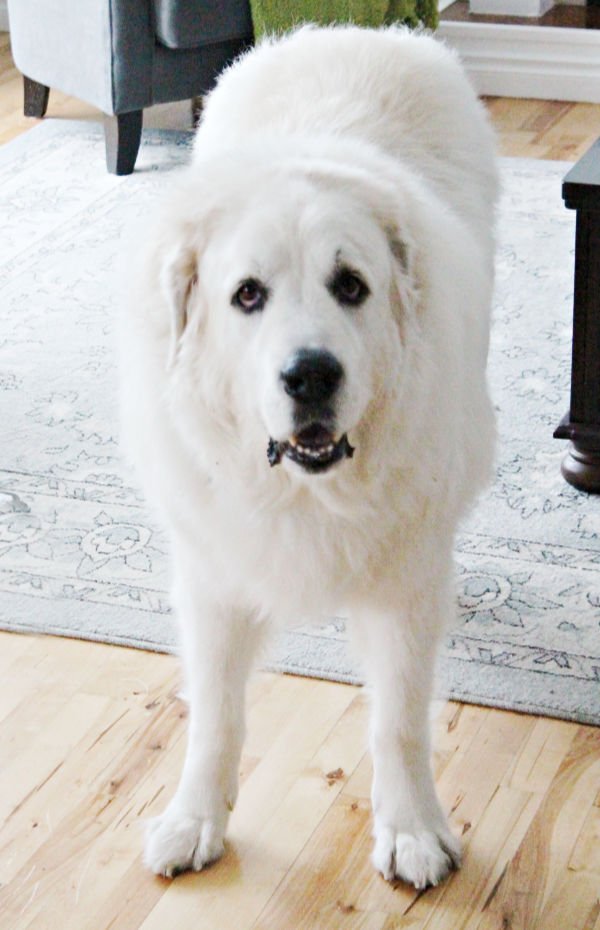 Supplies for Cleaning Dog Hair from Carpet
As unique as it is for me to write about cleaning, its also very typical for me to talk about cost. This hack is free! My favorite term!If you have a large, long haired pet dog or cat, I am sure you have a pet grooming brush. This dog brush is 8 years ago, he hates it so I typically use a metal comb to brush him a little bit every day. I should have Konmari'd it out of here, but somehow it missed the purge. Yeah!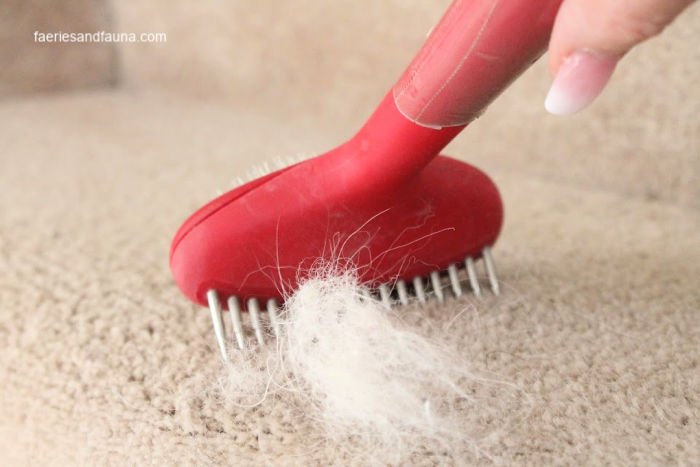 Our pet hair brush has sharp teeth on one side that is perfect for short shag, or pile carpet. I don't recommend using it for pile carpet. For looped piled carpet those sharp teeth may pull the threads out, so I suggest flipping it over and use the array of tiny wires on the other side.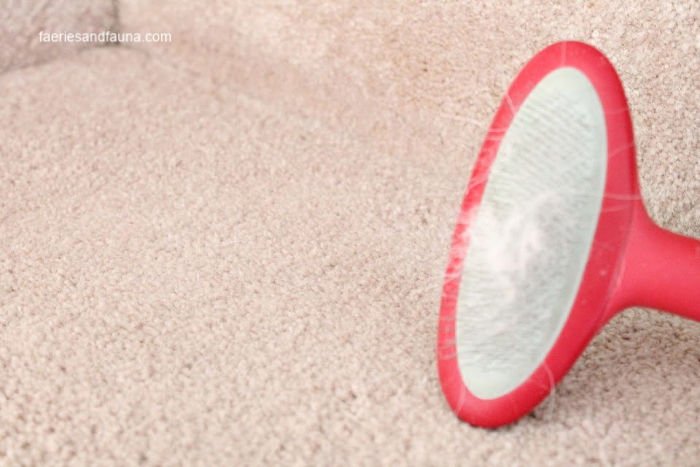 Exhibit B isn't anywhere near as adorable. Here are the stairs in all their fur matted glory. (I hope you can see it alright) Pup's hair get buried down in the carpet pile, and is impossible to get to, especially underneath the stair front, along the stair risers, and even the edges.
The mini power head doesn't fit, and using the hose nozzle doesn't get all the hairs out. I am so tired of rubbing the carpet with my fingertips to try and get it out. But the narrower dog brush fits everywhere, and its strong and sturdy.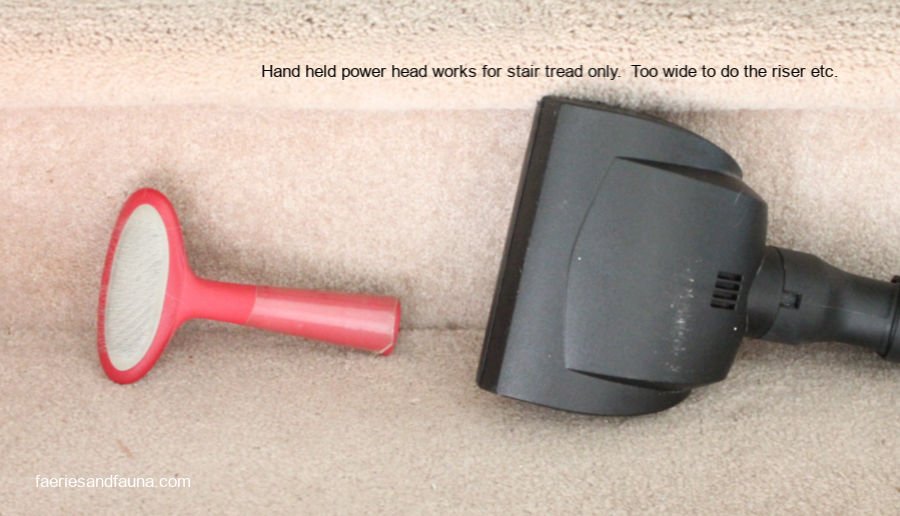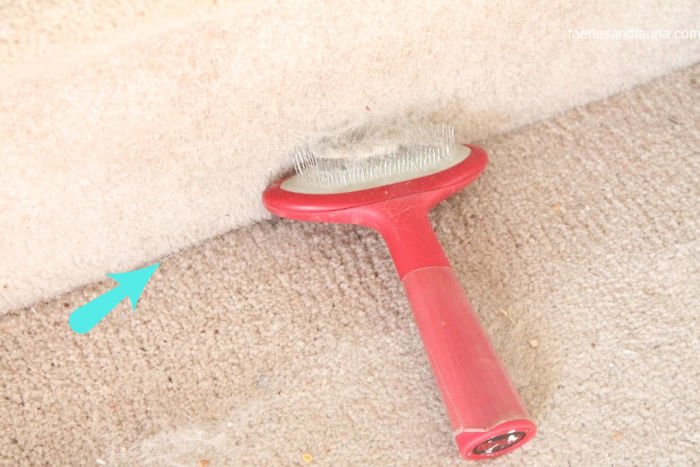 Starting with the teeth side, and light pressure where ever you get tonnes of puppy traffic. The top of the stairs for example. As you can see it gets right in the corners, and pulls the carpet pile fibers up.
Once the carpet piles are lifted up and some of the dog hair as well, switch to the other side and get the remaining hairs using the fine wired side.
After I get the top of the stairs.
The underside of the stair fronts.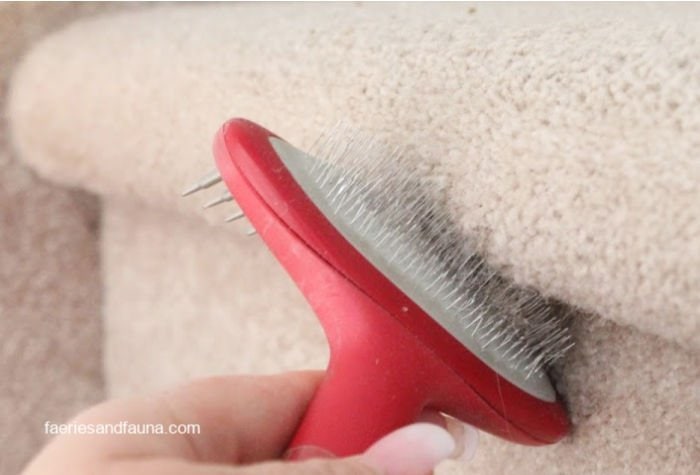 The riser portion of the stairs.
Finally the side parts.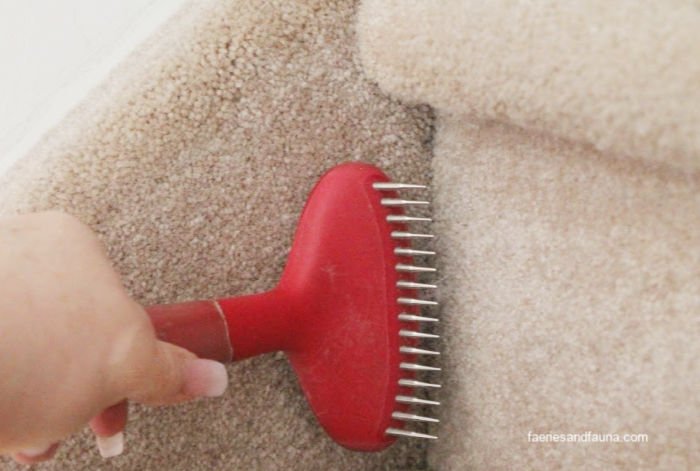 I continue on to the next stair.
Once I have all the stairs "de-furred" I just vacuum like usual.
I don't have to do this hack all the time, but once a month works. It takes about half an hour to do the stairs with the pet grooming brush. I believe I gain those minutes back because I don't have to struggled trying to get into the difficult areas with the hose etc. So much easier.


Here are a couple of other ideas we have had while living with our big fur baby.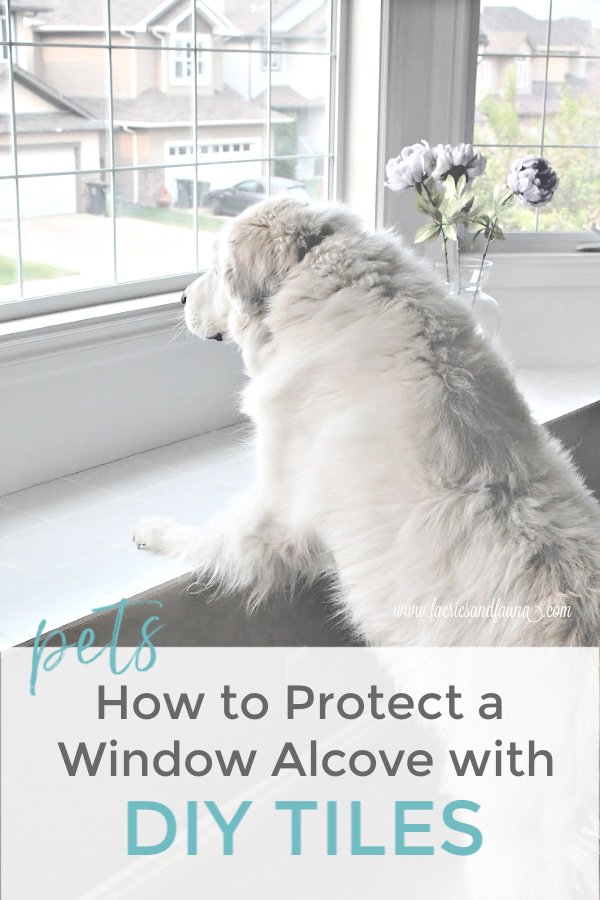 Repairing and Avoiding Wall Damage in a Window Alcove
How to Protect Wood Floors with a DIY Floor Cloth for Pets