Uncarved Pumpkin Decorated in Neutral Colours with Birch Bark and Flowers
Pumpkin Design Idea using Birch Bark and Flowers
Pumpkin design ideas are everywhere this time of year, with so many beautiful ideas its difficult to come up with something different, but I am hopeful this is a new pumpkin design idea.
This DIY pumpkin centerpiece requires birch bark. If you don't want to purchase birch bark, this post on making a birch bark ribbon shows you how.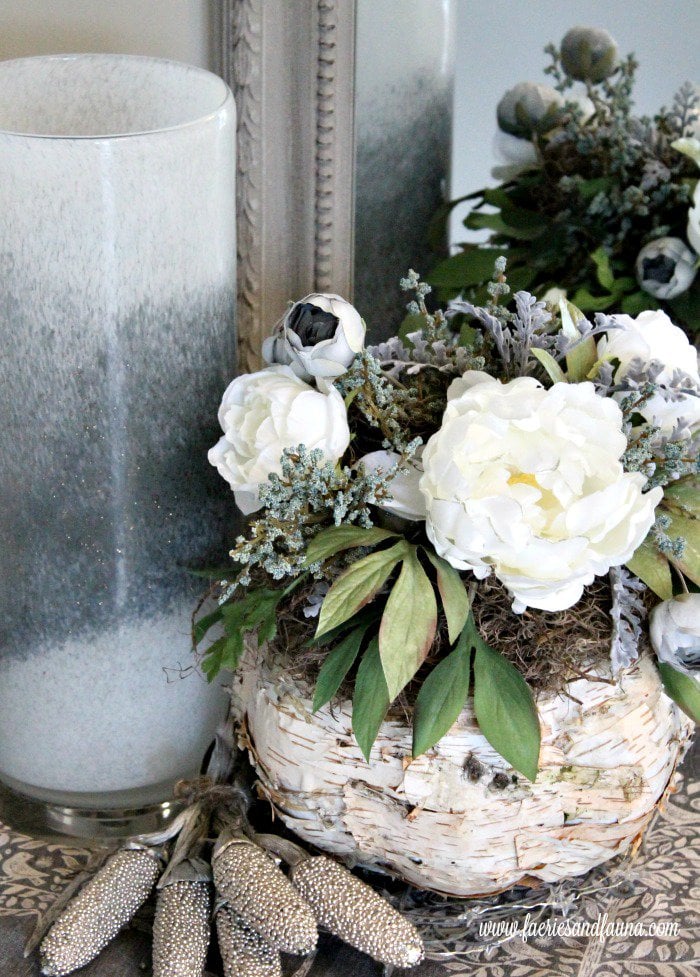 Pumpkin Decorating Supplies
[one-half-first] Large paper mache pumpkin
White paint
Birch bark (or birch bark paper)
Pins, scissors
[/one-half-first]
[one-half]
Mod Podge
Florist foam
Assorted fall florals
Hot glue gun and glue
[/one-half]
Make the Birch Bark Pumpkin
Starting with a paper mache pumpkin, paint it white and let dry. One coat is fine and any white paint you have on hand will work. Painting the pumpkin first will prevent any small gaps in the birch bark from showing.
Cut the birch bark in ragged pieces and strips, then mod podge the bark to the pumpkin. Don't worry about being symmetrical with the birch bark, just glue various pieces and shapes of bark in a horizontal position around the pumpkin.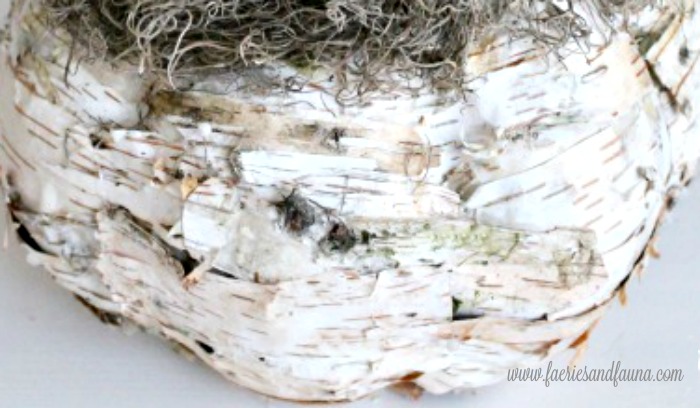 You will find that thinner pieces of bark are easier to glue then thicker pieces. On some pieces of bark you can pull off thin strips of the bark, these very thin pieces glue very easily.
For the thicker pieces after you add the mod podge, use stick pins to hold the bark in place until the mod podge dries. Then remove the pins. If you find that the edges don't shape, snip the edges and then fold the edge down.
Applying the mod podge took several hours mostly in drying time. I recommend doing a few pieces, then let them dry, If certain pieces hadn't adhered properly snip along the problem edge, apply mod podge again and reattach.
Once your pumpkin is covered and dry, use a glue gun to adhere any curled up edges.
As the birch bark is very patterned and beautiful on its own. create a simple arrangement for the top using white fall flowers.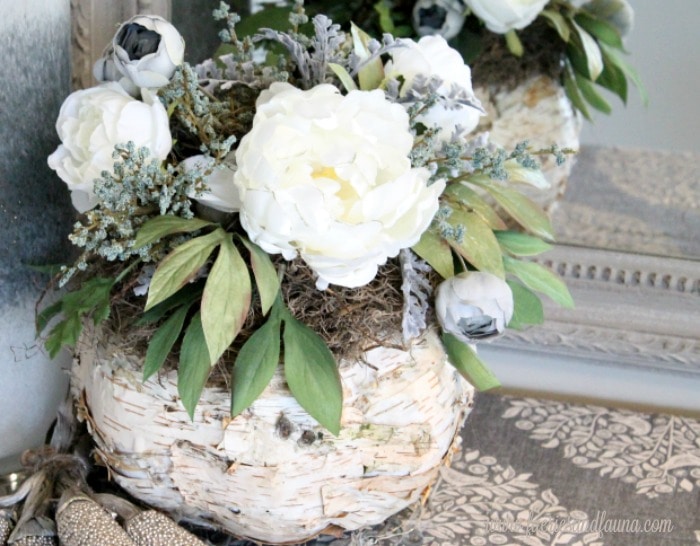 Creating the Pumpkin Flower Arrangement
Twist the florist's foam onto the stem portion of the pumpkin. Add hot glue underneath the foam to secure it in place. Add a crown of moss, I did not glue mine, but you can if you prefer.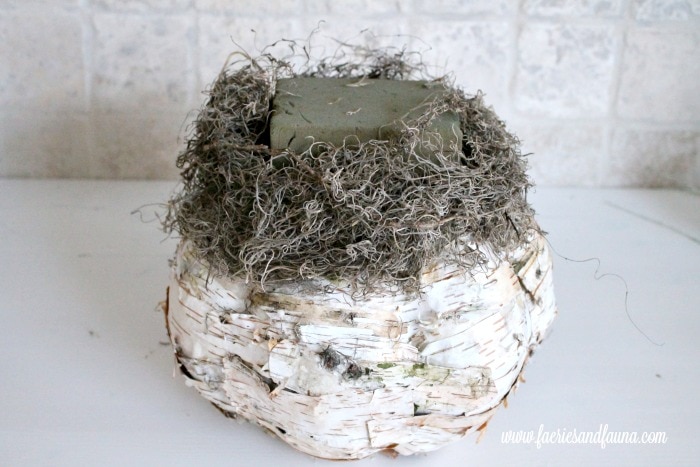 Remove the leaves from your fall flowers and insert them. Visually divide the pumpkin into thirds. Insert your leaves into the moss. If the stems aren't long enough to insert into the moss, wrap the stems in florist wire to lengthen them before adding.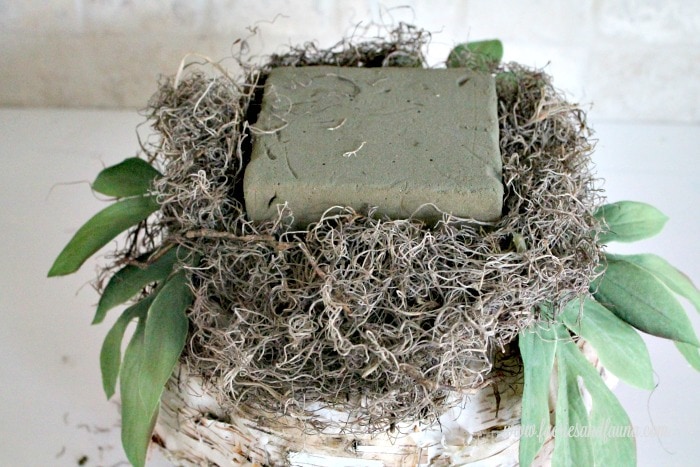 Next, add your main focal point and flowers. I had purchased three so I did a triangle starting with the largest flower.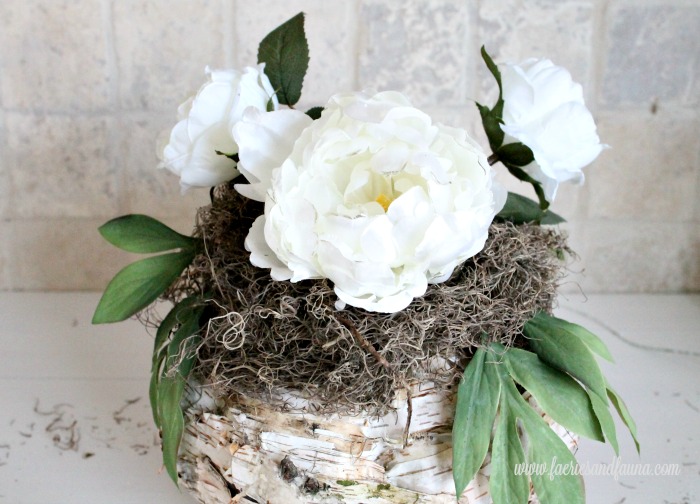 Add your secondary flowers between the large focal point flowers. You can see I used smaller purple toned grey flowers and faux stems for mine. Just fill in the spots between the large flowers in even amounts. This gives the display symmetry.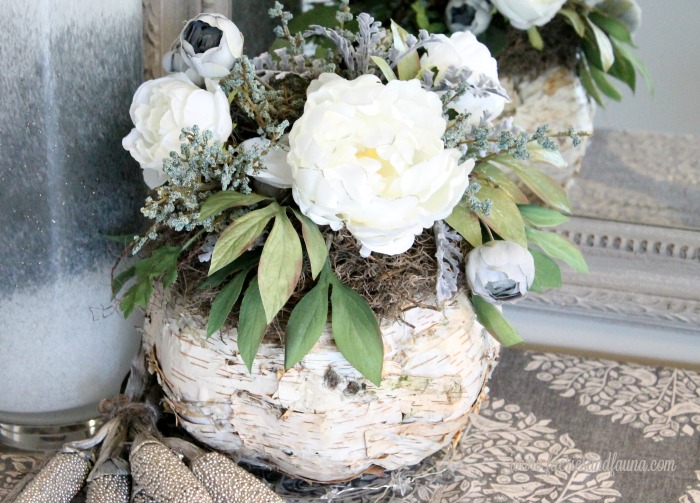 You can display your pumpkin as it is, place it on a tiny stand with mini lights as I have, or place it on a plate as a large focal point. This is the last of the DIY pumpkins I am making for Fall, although I wish I had time to make more.

RELATED POSTS
Here are some other neutral pumpkin craft posts I thought you may enjoy.